Cabinet manufacturer
The best partner for your client's dream
Design
Our Collection includes more than 100 finishes to choose from, with many cabinet door styles and carefully curated materials.
Manufacturing
AJ's manufacturing expertise is grounded in more than 35 years of experience and a highly dedicated team.
Support
Our team is dedicated to supporting your ambitions by offering our own platforms, facilities and training across Canada and the US.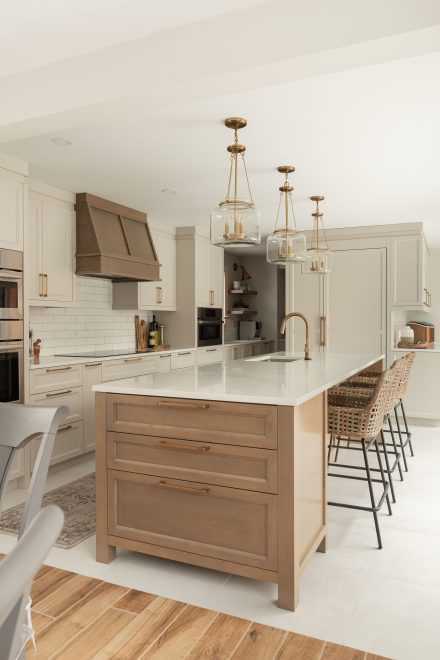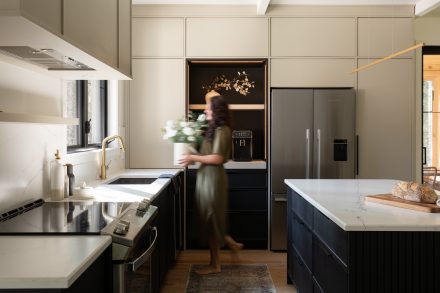 Our Design Advantage
With more than 35 years of experience, we strive to offer a Collection that allows you to customize every detail. Our modus operandi is to combine our custom design expertise with our technical skills.
The perfect design is the one that combines:
Timeless beauty
Individual personality
Practicality tailored to specific habits
Harmony with the surrounding environment
Durable and quality materials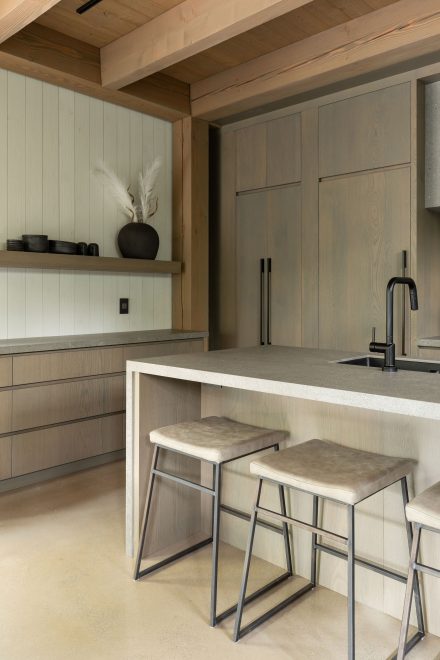 When a designer learns to put all of these ingredients together, they learn to create absolute well-being for their client in their own homes.
And THAT, is what we're all about!
Over the years, we've kept in touch with design trends by travelling across the world to refresh our designer eyes, put our creative minds on new paths and keep touch with the roots of the Design world.
Our commitment with the professionals who choose to work with us is to offer the fruits of our research in a way that is easily accessible to everyone.
Our commitment to provide the highest quality trendy materials and finishes to suit all your creative ideas is at the core of our design philosophy!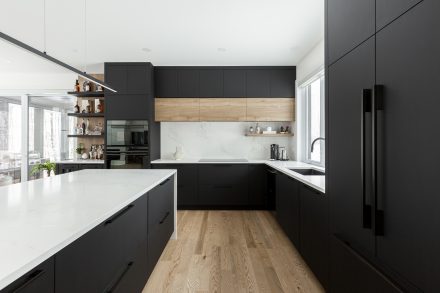 Our team work with passion, here's proofs
Our Product Guide
Providing you with all the information you need to make sure your project is technically sound.
Our Collection Guide
Presenting the array of materials and finished we offer, the Collection document works hand in hand with the Product Guide.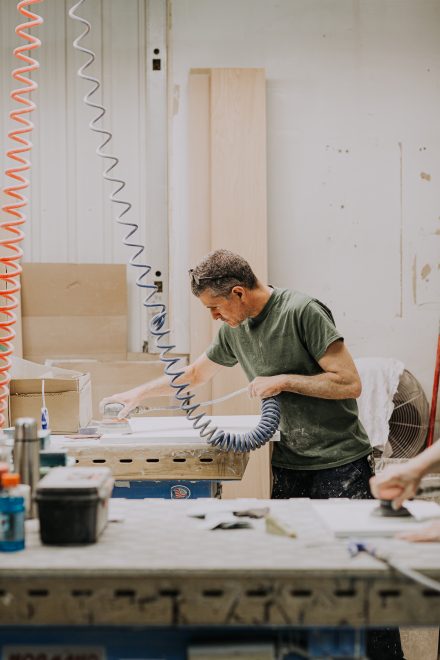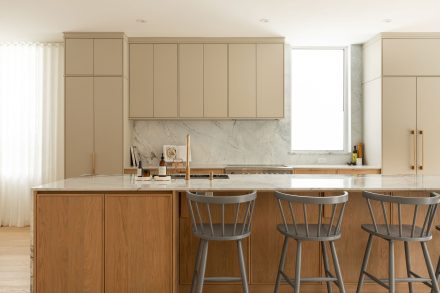 Our Manufacturing Advantage
With our very own manufacturing plants, we have the total freedom to build quality cabinetry with our very own Quebec savoir-faire and our 35 years of experience! 
This also means that we have the freedom to test every single new idea, material and mechanism before we offer them to you.
New materials are tested for resistance to temperature changes, water and humidity. We have our own standard ways to evaluate how materials hold up before they ever make it in our Collection.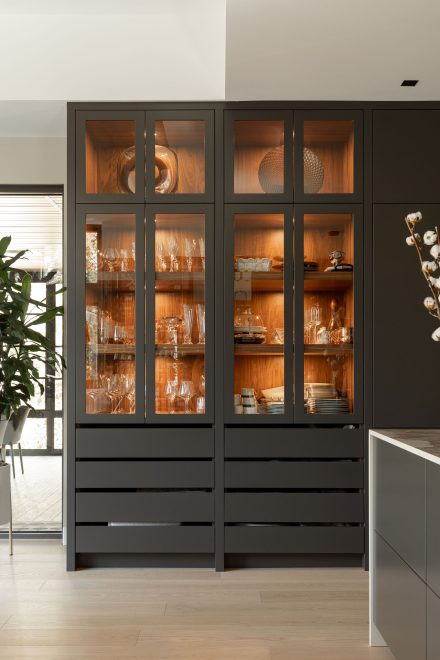 Paired with top of the line European machinery, we spare no expense to ensure everything that comes out of our factories meets your expectations.
When we say that a perfect design is in harmony with the surrounding environment, we don't only mean colours and materials…
To be in harmony with an environment means taking the steps to protect it. In that perspective, all of our manufacturing plants are PAPERLESS. Screens replace the paper that would otherwise be a huge waste of resources.
100,000+ square feet manufacturing space 
12,000+ square feet warehousing
L'Assomption
901, rang du Bas-de-L'Assomption South
L'Assomption, (Québec) J5W 2A3
Canada
Saint-Jérôme
475, Sainte-Marcelle Blvd.
Saint-Jérôme, (Québec) J7Y 2P7
Canada
Saint-Calixte
270, Beauchamps
Saint-Calixte (Québec) J0K 1Z0
Canada
Our Support Advantage
Ready to grow your business?
We will support you!
We offer many ways to support your business depending on your needs and goals.
One-on-one training is available to you and your employees for all of our platforms and software.
Our online quoting platform makes it easy for you to order anything from our Product Guide, Collection, and more!
If you're looking for a true partner, we have everything in place to support your business. With CRM software, marketing training and continued assistance, we are here for you.