Modern kitchen
Modern kitchen
To start a project, write to us!
Featured Projects
Discover our featured modern kitchens projects that will surely inspire you.
The modern style kitchen has a timeless design. With its minimalist look and open spaces, this style of kitchen offers a calm and relaxing atmosphere made of raw materials and basic shapes.
Our concepts are designed with every detail in mind: the materials are easy to maintain while adding personality to your space.
Our kitchen designers carefully choose the ingredients to create bright and warm rooms. Our modern kitchens are sleek and functional to let the magic happen.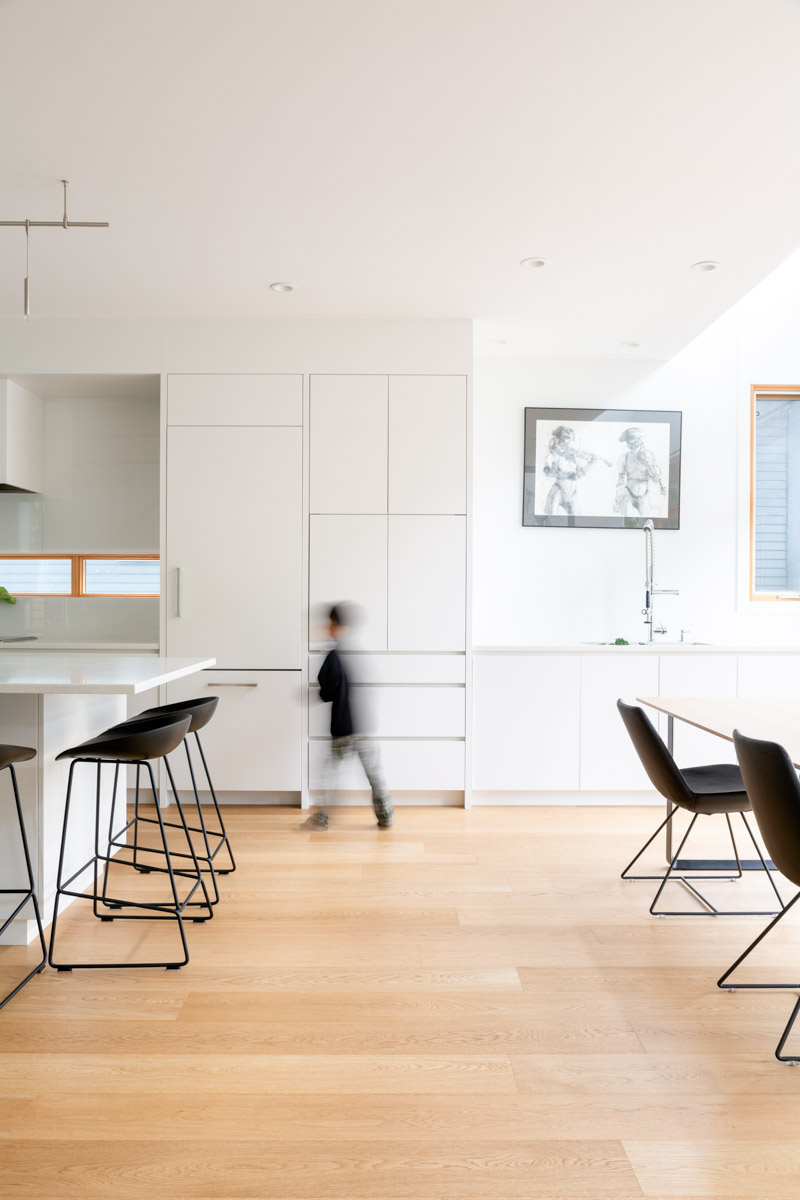 Make way for the Essentials
What makes us feel good sometimes comes in the simplest form. Like sunlight on your skin, that first sip of flavorful coffee in the morning, or the scent of freshly-baked cookies as you enter the house. For a space that breathes life's little pleasures, a modern kitchen keeps it simple.
An uncluttered and neat design provides a calm and restful atmosphere with a perfect balance of form and function. Prioritizing ergonomics and durability, the modern kitchen stands the test of time. No need to follow the era or style your house was built in, it is your home, after all! Conveying an impression of grandeur, a modern kitchen leaves room for creativity when preparing your favourite dishes.
Modern Kitchen
Properties
Colour
A monochromatic colour scheme is ideal for creating a modern kitchen. Among the popular shades, white and greige beige stand out. If you're lucky enough to have a historic home, celebrate it by leaving the wooden beams unfinished and opting for white walls, showcasing them like a sculpture. Indeed, white will bring light into your kitchen and will be the perfect backdrop for displaying your works of art.
Cabinetry
With a minimalist look and open spaces, a modern kitchen consists of cabinets with sleek lines and no mouldings. The materials are carefully selected to suit your needs while bringing character to your space. The modern style is distinguished by its removal of ornaments and its great simplicity. To hide your kitchen tools, we adhere to the mantra "a place for everything and everything in its place" for a clean environment free of clutter.
B

acksplash

To maintain a sleek look, opt for full slabs, countertop continuity, or a briquette style, but make sure this is the only touch of texture. As for the tiles, a glossy finish will provide light, texture and shine to your modern kitchen. Finally, to make it easier on maintenance, opt for large tiles, or even better, a custom backsplash with no visible joints.
Countertop
The countertop is the perfect place to add the ultimate designer touch to your kitchen. Modern kitchens mainly include materials such as stone, dekton, concrete, or wood. For sleek lines, opt for a very square counter. As for colours,  go for monochrome tones such as white, pale gray and black as well as natural wood.
A

M

inimalist Approach

Sticking to the motto "less is more", a modern kitchen is distinguished by its decorative stripping and its great simplicity. It is the kind of serenity that only an open space with very few objects can create. But how do you create a minimalist space without losing the warmth of your home? If you use natural materials the right way, your kitchen will be warm and welcoming.
Decoration
In both cooking and decorating, it is important to use the right amount of ingredients to achieve the desired result. To create a modern style, be sparing in adding furniture and accessories. By letting the space breathe, a minimalist style will highlight your works of art. For a warmer space, add a splash of colour with your accessories.