To start a project, write to us!
Featured Projects
Dreaming of a transitional kitchen? Get inspired by our unique creations!
The transitional kitchens offers the best of different styles. They are real family spaces, both practical and of great aestheticism.
The transitional style kitchen is the result of a perfect blend of classic cuisine with a touch of modernity! The transitional style offers a timeless design, between elegance and simplicity. It adapts perfectly to open spaces.v
Our kitchen designers generally opt for wood or white lacquered furniture, neutral colors, clean lines and light textiles enhanced by a few character pieces to give more depth to the whole.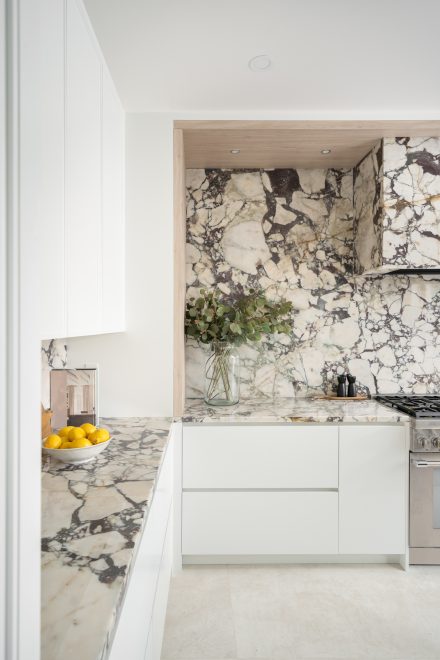 A Kitchen That Suits Your Taste
You can have the best recipe, but if you don't know how to combine and mix the ingredients, your dish won't taste good. The expertise of our kitchen designers will help you balance traditional and contemporary styles perfectly to create a transitional masterpiece.
This style offers the best of both worlds with timeless and refreshing spaces.  Practical and aesthetically pleasing, the convergence of styles will make your kitchen a truly unique family environment.
Transitional Kitchen

Properties
Colours
A simple, neutral colour palette is a good choice for a peaceful transitional kitchen. But don't be discouraged if neutral colours aren't your thing. You can always select materials in a different colour with the help of your kitchen designer and make it your kitchen's focal point.
Cabinetry
For an uncluttered kitchen, our designers generally opt for shaker-style cabinets made of wood or lacquered MDF. The simplicity of such cabinets gives you the green light to accentuate your decor. You can also add storage space with wall-mounted kitchen shelves for a custom layout. When it comes to colour, natural shades such as white, gray and beige are a safe bet for transitional kitchen.
Backsplash
To add a touch of texture to your kitchen, jazz it up with shiny backsplash tiles. As for something more classic, subway tiles are a timeless must-have.
Countertop
Many countertop materials can be used in a kitchen that is both classic and contemporary. Organic finishes, such as concrete, wood and stone are all excellent options.