Kitchen Designers in St-Jerome
Contact us
To plan your project or to get more information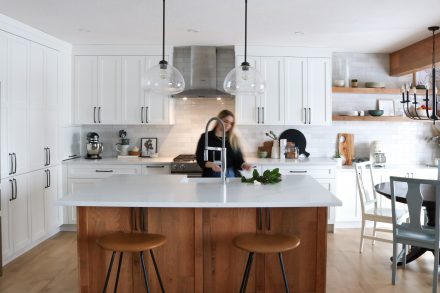 Kitchen showroom in St-Jerome
Visit our showroom in Saint-Jerome, located on Ste Marcelle Boulevard. You will be able to discover the latest kitchen trends as well as our entire range of materials and finishes. The first step towards your dream kitchen is there. Come meet our kitchen designers and get inspired!
Address: Ateliers Jacob Cuisine & Espace 475 Ste Marcelle Boulevard, Saint-Jérôme, QC J7Y 2P7
Phone: (450) 438-3388 
Let's meet!
Business hours
Monday to Friday: 9am to 5pm
Saturday: 9am to 4pm
Sunday: Closed
Some kitchens made by Ateliers Jacob
Take a look at our projects and choose the one that best fits your style! We have 9 collections, 19 materials and 107 colours to meet any aesthetic needs or style.
From the material to your world.
Request a quote by filling the online form.
This takes about 3 minutes.
Manufacturing kitchen cabinets since 1987
Our very first workshop in Saint-Calixte, in the Laurentians, taught us the power of collective intelligence. This is an idea that we have grown and that has kept us going. Surrounding ourselves with the best in kitchen cabinet making was a wise choice that we have never regretted. 
Over the years, 3 new plants (which we call our workshops) have been opened to meet the growing needs of our customers from the Laurentians, to the Eastern Townships, to Montreal!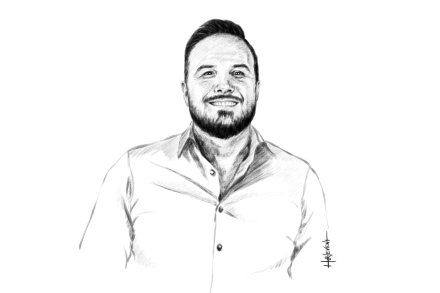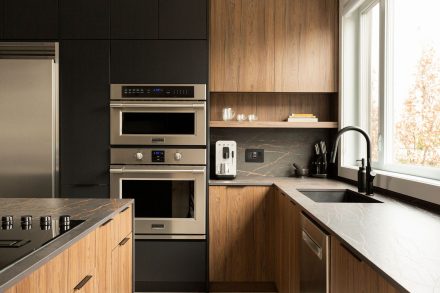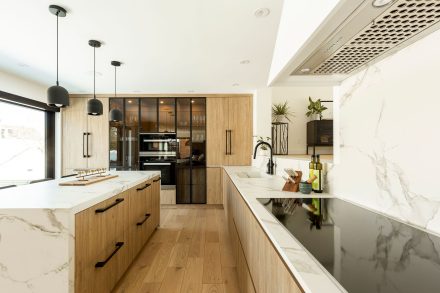 Superior quality cabinets
The values of the craftsman and advanced technologies have been merged to offer you a unique product of superior quality! Our achievements and our guarantee on the product will convince you.
Humans above all
We know that listening to your needs is an important step in the realization of your kitchen project and you can rest assured that our team of kitchen designers in St-Jerome will receive you in a humane, caring and attentive manner. We want the best for our customers!
Our team's expertise is unparalleled and we are able to help you plan a kitchen that is not only beautiful and up-to-date, but also practical in your daily life. You will love your new kitchen!
Our approach has been evolving for over 30 years
Our creative process has evolved since we started in 1987! But one thing that has not changed is the good communication and collaboration between our teams and our valued clients. We know that these are essential elements in the realization of your project. We will always listen to you because we have your needs at heart and we want you to be happy in your new space.
It's no secret that our standards are high! No matter what the project, we want the best for our clients and this is reflected in the huge choice of local and imported European materials as well as the custom service we offer.
Stages in manufacturing kitchens
There are many steps to take in the process of building a kitchen. Our kitchen designers will guide you through the entire process, from the ideation to the installation of the cabinets. Our role is to accompany and advise you in your project in order to simplify your life.
Ideation and design
Whatever the project, the kitchen designer and the client will start the process with a meeting to discuss ideas and to define the needs and look at styles. 
Afterwards, design meetings will follow and the 3D plans will be created and the materials chosen. At any time during this phase, the client can manipulate the materials and visualize their kitchen in our showroom in St-Jerome.
Since we manufacture and distribute our own cabinets, this allows us to realize specific and customized requests, which is a huge advantage that our customers get to benefit from.
Manufacturing the kitchen
Our manufacturing process is constantly evolving in line with new technologies, while maintaining the meticulousness and finesse of the artisanal values we have relied on since our beginnings.
The product delivered is of exceptional quality; it's durable and locally made and we are very proud of it!
Installing the kitchen
Your dedicated project manager and the installers will make sure to synchronize every step of your kitchen installation, for a worry-free and hassle-free job.
When the installation is complete, you can enjoy your new Ateliers Jacob kitchen space!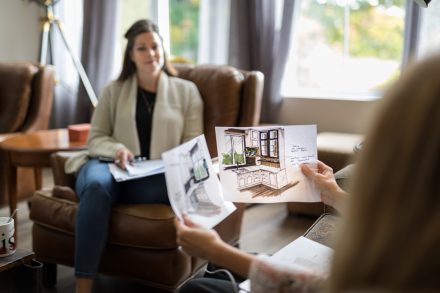 A kitchen designer's role
A kitchen designer is a specialized and experienced interior designer who will guide you through all the steps of your kitchen renovation or construction project! They will be able to anticipate possible issues and plan a practical living space for your daily life.
A kitchen designer can help you visualize all the details of your project clearly and precisely. During the process, you will be accompanied and kept informed of the progress.
We serve St-Jerome and the surrounding areas
We serve the entire St-Jerome area and can accommodate you according to your schedule and availability, either in person or by video-conference. For a simple and efficient process, make an appointment with our kitchen designers in St-Jerome!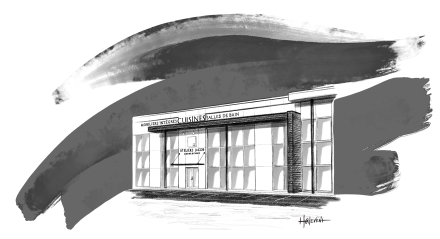 Frequently asked questions
How long does it take to complete a kitchen renovation?
The amount of time needed for each project may be different. Generally, it takes between 4 to 8 months from the first meeting to the kitchen's completion of all steps in the process.
Can I expect my kitchen cabinets to be made locally?
We are proud of our dedication to utilizing local materials and sustaining local manufacturing. Our factories in L'Assomption, Saint-Calixte, and Saint-Jerome, located in the Greater Montreal area, demonstrate this dedication.
What is the minimum budget needed for a kitchen renovation project? 
Multiple elements influence the cost of our cabinets, including the selection of high-quality materials and the fact that they are manufactured in the Greater Montreal area.
The current economic situation affects the cost of our products. In 2022, customers can anticipate projects beginning at $15,000 for cabinets and casings.
Is it ok if I bring my plans?
Our skilled kitchen designers offer detailed design guidance. We are also delighted to take on your plans, and work with experienced architects and designers.
What kind of services do you offer?
We provide comprehensive support for your kitchen cabinet design, including incorporating your needs, designing and 3D modeling, as well as managing the project and delivering and installing.
In persone or remotely?
Some customers prefer to visit the store to meet their appointed kitchen designer, others find it more convenient to arrange video conference meetings. No matter your preference, we adapt to your needs to simplify your project and allow you to meet in the format that is most suitable for you.
Meet a kitchen designer
Advice from kitchen designers