Kitchen Designers in Terrebonne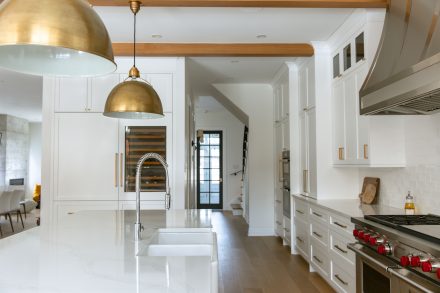 Humans above all
Our team of kitchen designers in Terrebonne and the surrounding area offers a humane and caring service. Listening is at the heart of our creative process. Passionate about detail and design, we have the talent and expertise to carry out your custom renovation or construction projects. We identify your needs and find solutions that are both stylish and practical.
Our approach has been evolving for over 30 years
For more than 30 years, we have been constantly evolving in our creative approach. Good communication and collaboration between professionals and clients are key to the realization of a kitchen or renovation project, which is why listening is at the heart of our projects and business relationships.
The customized service we offer to each of our clients gives us the flexibility to work without pressure while respecting the highest standards. The vast choice of local and imported European materials offered to our clients for the realization of their projects is one of the reasons why we distinguish ourselves in the market.
Manufacturing kitchen cabinets since 1987  
Since the opening of our workshop in Saint-Calixte in the Laurentians, we have come a long way. Keeping in mind the idea that collective intelligence would move us forward, we have surrounded ourselves with the best in kitchen cabinet manufacturing.
One thing leading to another, we have opened three new factories that we like to call "the workshops". We serve several regions, including the entire territory of Terrebonne and Lanaudière.
Superior quality cabinets
Constantly evolving, we are proud to have merged the most advanced technologies while maintaining the values of the craftsman. If a picture is worth a thousand words, then we believe that our achievements demonstrate our expertise. In addition, our product guarantee ensures peace of mind for every customer.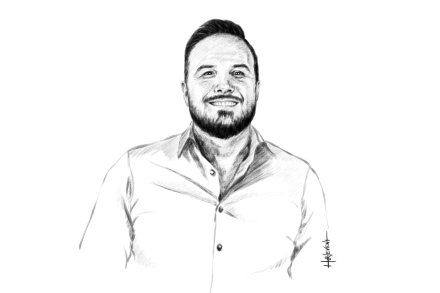 Shop by style of kitchen
We offer 9 collections, 19 materials and 107 colours to suit every style.
Stages in manufacturing kitchens 
Our experienced kitchen designers will simplify the entire process for you and provide you with the guidance you need to make your dream kitchen a reality. You'll be amazed at how quickly and seamlessly the entire process transpires!
Ideation and design
The kitchen designer and the client will meet a different number of times, depending on the project. Regardless of the project, they will start with an ideation meeting. They will define the needs and discuss the styles for the new kitchen.
This will be followed by design meetings where the 3D plans and materials will be presented. At any time during this period, you will be able to manipulate the materials and visualize your kitchen thanks to our showrooms, near the Laval area.
Being the manufacturer and distributor of our cabinets, our customers benefit from a very large advantage, as this gives us the freedom to create specific custom-made requests.
Manufacturing the kitchen
Our manufacturing process is constantly evolving while maintaining a great attention to detail and quality. Each of our factories is located in the Greater Montreal area. We are constantly evolving our manufacturing process in order to offer the technological advantages of international companies, while maintaining the rigor and meticulousness of the craftsman.
Our collections are rigorously reviewed and tested for both style and material in order to present superior quality cabinets to the market and to maintain the durability of our products.
Installing the kitchen
The project manager assigned to your project as well as the installers will make sure to synchronize each step of the installation of your kitchen, so that the work goes on without the slightest worry.
Once the installation of your new kitchen is complete, all you have to do is enjoy your new Ateliers Jacob space.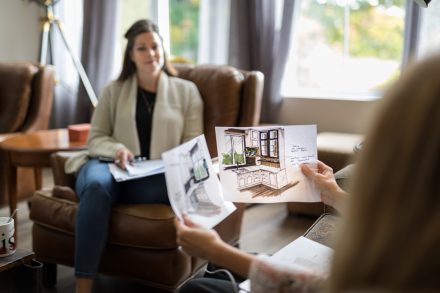 A kitchen designer's role
The kitchen designer is a specialized and experienced interior designer who will guide you through all the steps of your kitchen renovation or construction project! They will be able to anticipate possible issues and plan a practical living space for your daily life.

The kitchen designer can help you visualize all the details of your project clearly and precisely. During the process, you will be accompanied and kept informed of the progress.
Our Terrebonne Showroom
We welcome you with pleasure in our Terrebonne showroom, Monday to Friday from 8am to 5pm. A good dose of inspiration awaits you! Come to discover the different materials and finishes as well as the latest kitchen trends and styles that suit you in a modern and warm showroom. Our kitchen designers are waiting for you!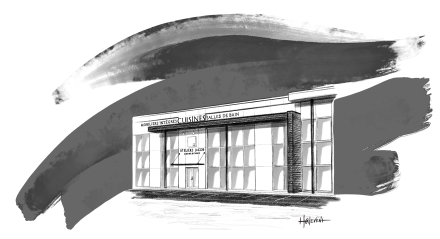 Frequently asked questions
How long will it take before I get my new kitchen?
The process of creating your dream kitchen is usually completed within a period of 4-8 months, beginning with the initial meeting and ending with the installation. Throughout this time, our experienced kitchen designers will be there to guide you every step of the way!
Where will my kitchen cabinets made?
We are committed to using local materials and maintaining local manufacturing. We are proud to have our factories in L'Assomption, Saint-Calixte and Saint-Jerome in the Greater Montreal area that stand as testament to this commitment.
What's the starting price point for a kitchen renovation?
The cost of our cabinets is determined by various factors such as the selection of quality materials and the fact that they are made in the Greater Montreal area. The prevailing economic climate has an influence on the price of our products. Currently the qualification of a projects starts at $7500 for cabinets and casings.
I'd like to use my own plan, is that allright?
Our experienced kitchen designers are readily available to offer complete design guidance. We welcome the use of your plans, as well as collaborations with professional architects and designers.
What are the services offered?
Our services are thought to provide complete support for the kitchen cabinet design, from considering your needs and requirements, to designing and 3D modeling, as well as project management, delivery, and installation.
Let's meet in person or remotely
Although some customers prefer to come to the store to meet with their designated kitchen designer, we understand that some situations make travel more difficult. This is why we have completely adapted to allow you to meet with us via video-conference. You will benefit from this flexibility!
Advice from kitchen designers