Contemporary Kitchens
Contemporary Kitchens
To start a project, write to us!
Featured Projects
Browse through our featured projects to find plenty of inspiring ideas for your kitchen.
Fully embracing the latest technologies, materials and trends, a contemporary kitchen is practical and creative. It is an ergonomic, comfortable and aesthetically pleasing living space.
In this type of living space, we find the efficiency of a modern kitchen and the warmth of organic materials.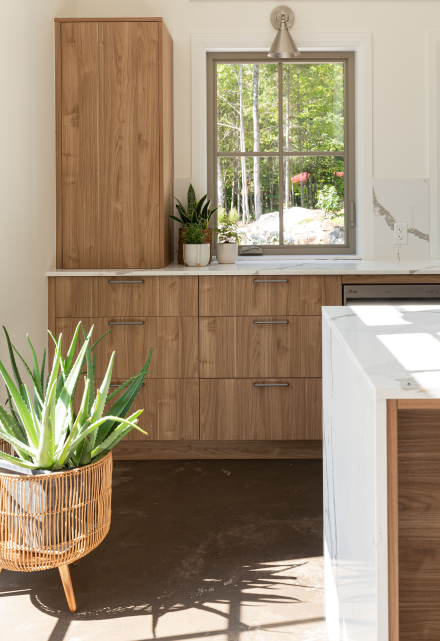 Bring Your Kitchen to Life
A living space in harmony with nature brings well-being to your daily life. Use plants to transform any kitchen into a modern and soothing oasis.
Among the trendy species, one of the most beautiful is certainly the fiddle leaf fig, with its long and elegant stem, vibrant colour and large leaves.
When it comes to the perfect planter, the look is as important as the plant itself. It's impossible to talk about planters without mentioning terra cotta. With a wide variety of sizes, shapes and colours, this material will add a touch of sophistication to your decor. Another timeless planter; the woven basket. We see it everywhere and we love it! Both chic and bohemian, it will bring comfort and a warm note to your kitchen.
More than just fashionable decorative accessories, plants will bring life to your home.
Contemporary Kitchen Properties
Colours
Neutral tones are the foundation of contemporary design. With their finesse and richness, they offer the possibility to modify the decoration over time and to adapt very easily to all trends. Colours such as white, taupe and warm gray are particular favourites in contemporary kitchens, while black is also becoming a popular trend.
Cabinetry
Minimalist, contemporary style cabinets have a subtle elegance that will never go out of style. The lines are sleek and the materials are high-quality. To complete this uncluttered style, you can choose cabinets without handles.
Countertops
A contemporary kitchen includes a balanced mix of natural materials for a chic and timeless ambiance. Among these, marble, quartz and raw wood are must-haves. Also, cascading countertops and two-tiered surfaces will add a touch of class and elegance to your space.
Decoration
Designing a kitchen with personal touches goes beyond the style that any trend can offer. For a friendly kitchen that feels like you, carefully select some furniture and accessories in natural materials for a spacious, airy look. Lighting and furniture share an elegant aesthetic with strong sh