Remember visiting your grandparents farmhouse or taking a trips to the countryside on a sunny day? All the comforting smells of homemade food and veggies fresh from the garden can also definitely give that nostalgic comfort of a country home. Whether your home is located in the country or in the city, why not instil this felling of country comfort into your kitchen by opting for a "country-chic" design style? Here are some tips and tricks to help recreate this peaceful ambiance within your décor.
Cabinets Style
Automatically think simplicity, when considering country-style cabinets. "Shaker" cabinet doors or light moulding elements are well suited for the "country-chic" kitchen look. Nice cabinet features can also be incorporated with strategically placed doors creating an elegant panelling effect. A kitchen designer can help you choose just the right amount of cabinet accents.
Decorative Cabinets
The feel of a "country-chic" kitchen can come across in your shelving and decorative cabinet selections. Square glass tiled doors, glass cupboards backed with antique wallpaper, light metal mesh door panels, or worn wooden shelves displaying ceramics, are just some of the options that are sure to give your kitchen that "country-chic" look and vibe!
The colours
To get that chic refreshing look, kitchen cabinet colours must be kept on the lighter side. Mint green, soft blue, or a delicate gray are good choices. One way to make the atmosphere even more radiant and comforting is to opt for white cabinets the same color as the walls and ceiling.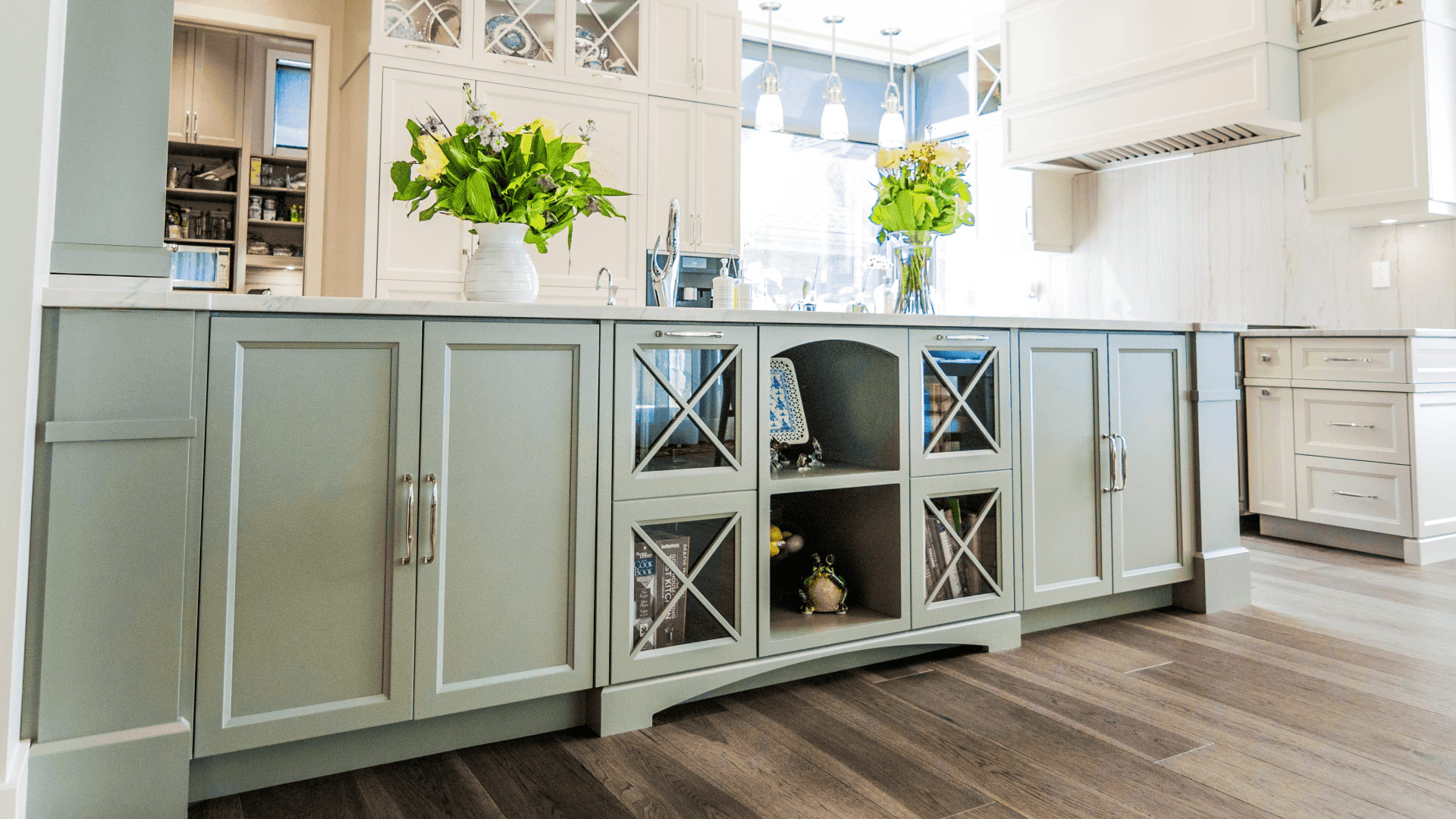 Ceiling and Backsplash
Remember to consider the design of the whole room! For the "country-chic" style, white wooden ceilings, worn wood beams, or beams painted white are good options. As for the backsplash, small white ceramics tiles tend to be the ideal choice!
The Sink
When designing a country-style kitchen, one of the main design elements is an apron sink. It's a key fixture in creating the ambiance associated with this country look!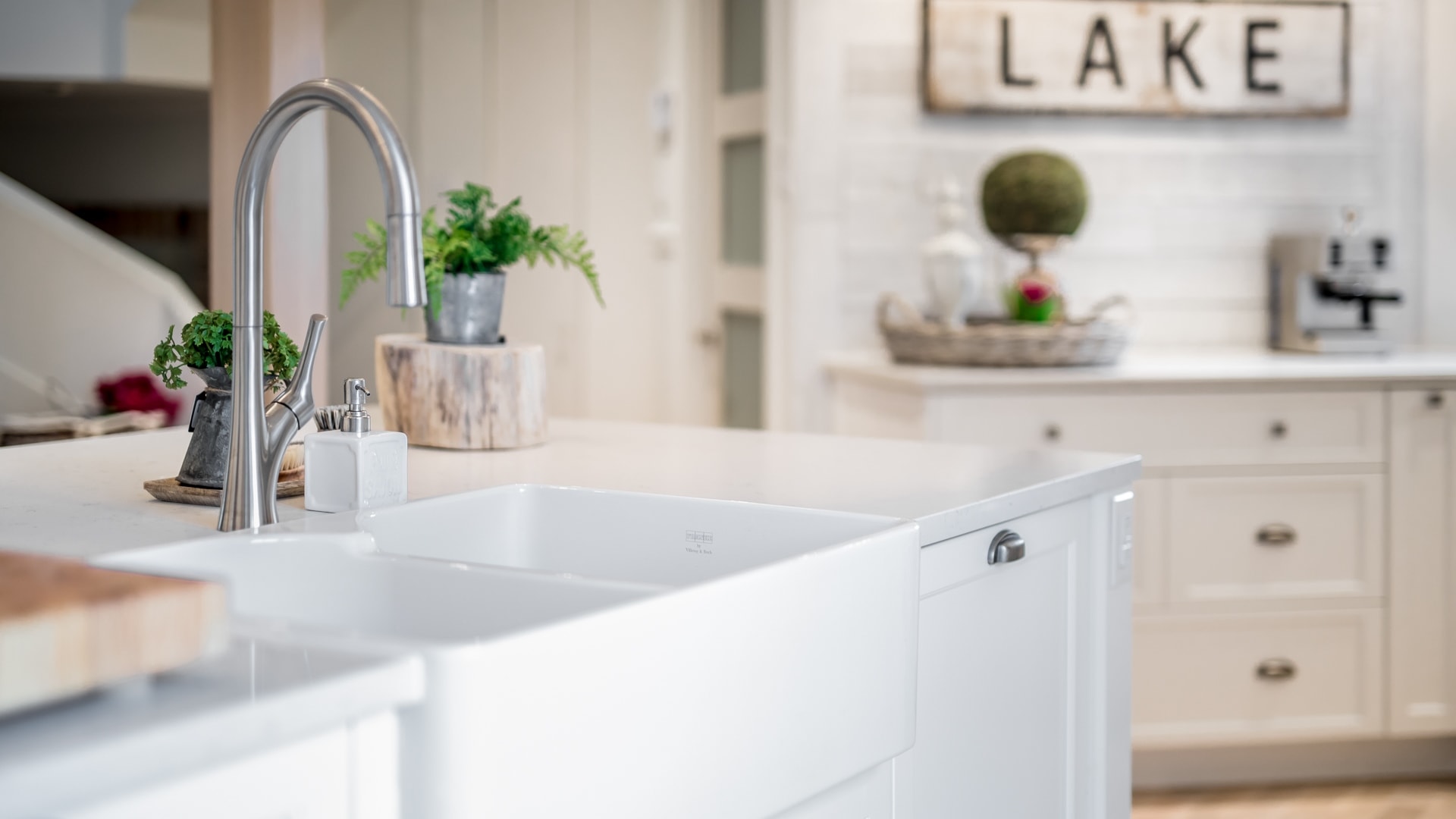 The Countertops
Several countertop materials can be used in a "country-chic" kitchen, as long as they lean toward pale or warm finishes. The ideal countertop would be imitation marble quartz (for its easy maintenance) and possibly the addition of a butcher-block area to the island creating that warm home-style feel.
Decoration
To finalize this style, choosing the right accessories is very important! Whether it's using antique fixtures, raw wood stools or porcelain tableware, every additional element should be considered. Be careful not to overload the space, and make sure to choose decorative accessories that also have practical utility.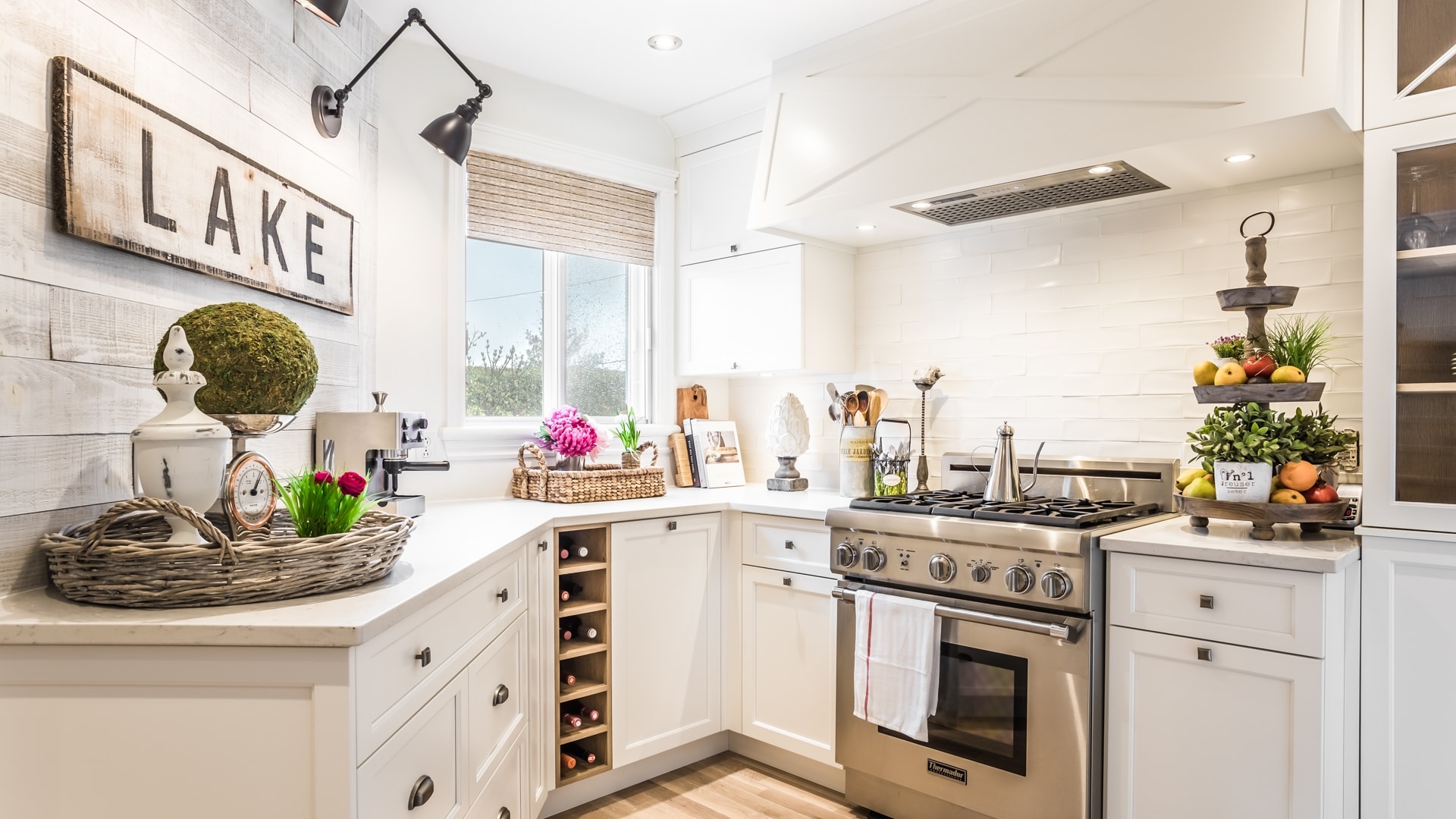 Now that your kitchen is ready, grab a fresh croissant from the oven, a glass of milk and enjoy that comforting atmosphere of your wonderful country-chic kitchen!