What makes the difference with a décor is certainly the ambiance. You know – that certain something which makes you feel good or gives you the thrill… To be successful your renovation project must be taken to its conclusion and thoroughly planned down to the smallest detail. That's what makes all the difference.
Imagine yourself attending a gala dinner with a beautiful dress – or a suit for you gentlemen – and wearing it with running shoes. Very often, I have been noticing magnificent kitchens, but poorly finalized. So here are the main aspects that must not be overlooked to get the kitchen of your dreams.
You have planned and created the perfect kitchen with your kitchen designer and you already see yourself preparing your favourite dessert on your new countertops. However, there's still work to do! Obviously, you have already opted for a particular style at the beginning of your project, and now it must be applied by following your style guidelines.
The shades
In order to keep a guiding thread in the selection of materials, it's best to adjust tints. Choose neutral colours for the two or four shades that will be found in your kitchen and select a bright colour in smaller proportion. This ensures that your décor will pass the test of time, notably because it will remain neutral and you'll simply have to change the accessories to refresh the house a little.
The floor covering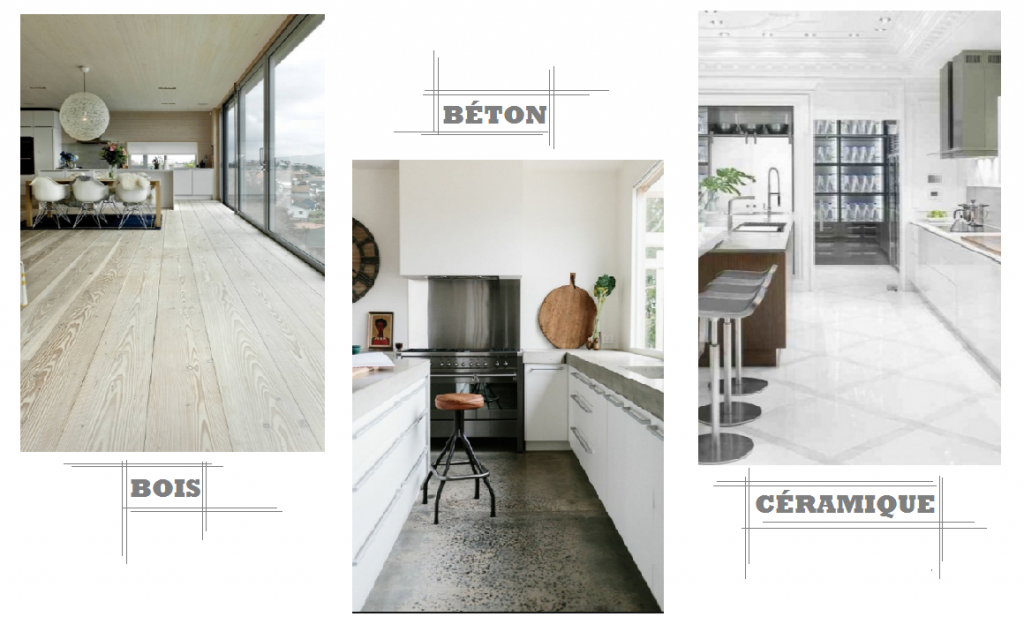 It's a good idea to choose your type of flooring as early as the project's inception, since it will affect every choice of products in your kitchen. Ceramic certainly is a preferred material; it's high resistant and can be easily maintained. Notwithstanding the style, there is a clear trend in large tiles. Select plain materials, with delicate textures, which are timeless and easy to blend with the rest. If you have an open concept design, floors shall be unified; it makes rooms fit with each other without providing psychological separation. Wooden floors are increasingly popular. Go with wide panels for a visual effect of more space. Other materials can be used, of course, such as polished concrete and engineered wood.
The ceiling
The ceiling certainly is an often-overlooked part. Most kitchens are thus left with white, simple ceilings, without daring. It works if you're looking for a clean and refined atmosphere, but if you want to give a special touch to your room, it's easy to have fun with textures. Try a dark-coloured ceiling, for instance, or just another texture such as mouldings, wood or coffers.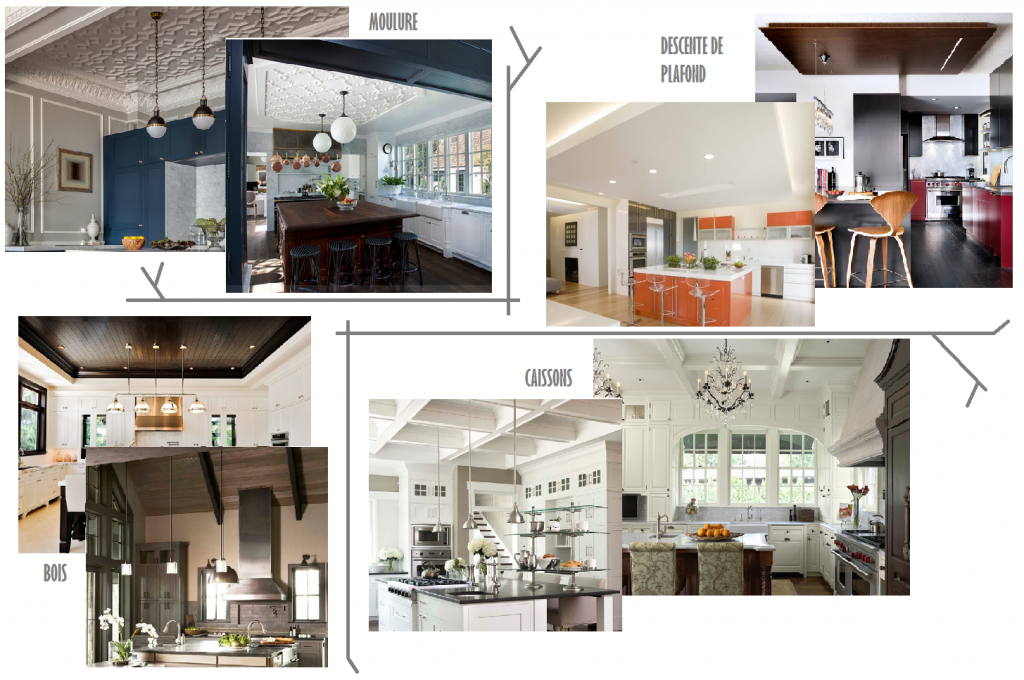 Accent wall
If the ceiling is important, so are the walls. We often find ourselves faced with an empty wall that we desperately need to fill. Rather than buying pictures and frames without thinking about it, opt for textures. An accent wall would be different, it's an eye-catcher and it will dress up the wall without overdoing it.
Ceramic backsplash
As regards the backsplash, I suggest my clients to wait until the kitchen is installed before the selection. It's one of the only items that can wait until work is finished. Sometimes, to bring some samples when the project is completed help to visualise the whole thing. It's very important to like your backsplash and to choose it wisely to avoid having to repeat everything in the short term. As with the floor, I suggest you to opt for a plain colour and to play with shapes instead. However, if your countertop is neutral, you can explore a more pronounced texture, such as marble.
Stools
If your kitchen includes an island with seating capacity, you'll have to select stools. Have some fun! If you wish to add a specific accent colour to the room, it can be a good way to do so. You can order online or go to specialized stores to avoid buying a too common article. Those stools, you will sit on them everyday, so make sure they are comfortable.
The lights
Last but not least: the lights, the essence of the "ambiance". A normal kitchen can come to life with sufficient light. Think of integrated lighting under cabinets and inside glass cabinet doors. There should also be a general lighting with recessed lights and dimmers. Finally, complete the look with fixtures above the island. As with stools, take time in choosing unique items.
You can follow these tips for all the rooms in your house that you're planning to renovate. More importantly, your home must be in perfect harmony with your tastes and personality!