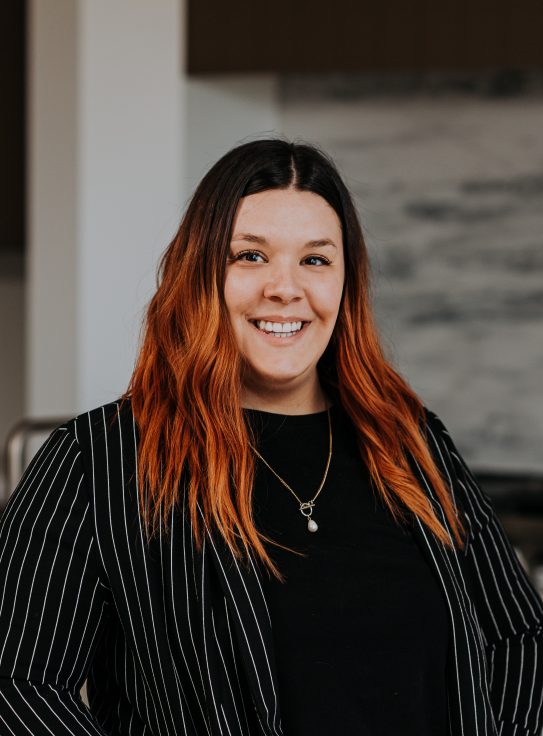 Ariane Nadeau
Kitchen designer
Biography
My academic and professionnal background
I studied Art History and then reoriented myself towards my first love, interior design.
My ambitions and why I became a designer
I've always liked everything about art and design. Having seen both the commercial and residential side during my technique, I wanted to see what I liked the most about this job when I left school, to finally see that the work of kitchen designer is what I prefer!
Why I like working at Ateliers Jacob
Working at Ateliers Jacob was a goal and I'm proud to be part of the team now! Being a kitchen designer at Ateliers Jacob means being part of a company that is increasingly becoming one of the largest manufacturers of kitchen cabinets in Quebec!
About my style
Inspiration and passion
I love cooking a lot, so it's something that will always inspire me in my projects, imagine my client in the kitchen that I create for him, work the space well, think every box, every accessory to the perfection.
Preferred materials and application
I like working with all the materials in our collection, but I especially like wood because we can dye it and have unique projects, same with the lacquered MDF!
My dream project would be to
I always dreamed of doing a complete project in the style of «Studio Mcgee»! It inspires me a lot, also with Joanna Gaines and Amber Lewis!
My experience
Years of experience, specialty, type of achievement
I now cumulate 6 years of experience in the field of design. As a kitchen designer, I think I can create all the different styles, but I still prefer farmhouse/modern, traditional and transitional styles.
Outside of work
My friends would say I'm
A cheerful person, who tries to see the positive in everything and I would also say that I am quite direct in life, I don't go by many ways to say my opinion!
My favorite restaurant is
My favorite restaurant for life for the atmosphere, the place and for the incredible food is Le Mouton Noir located in Baie-Saint-Paul.
My favorite movie is
Those who know me well know my infinite love for all Marvel films! I am a very imaginative person so I like to abandon myself in their universe!
I look forward to meeting you and being the kitchen designer you will choose to create the project of your dreams!
For any questions, contact us!
Contact me!