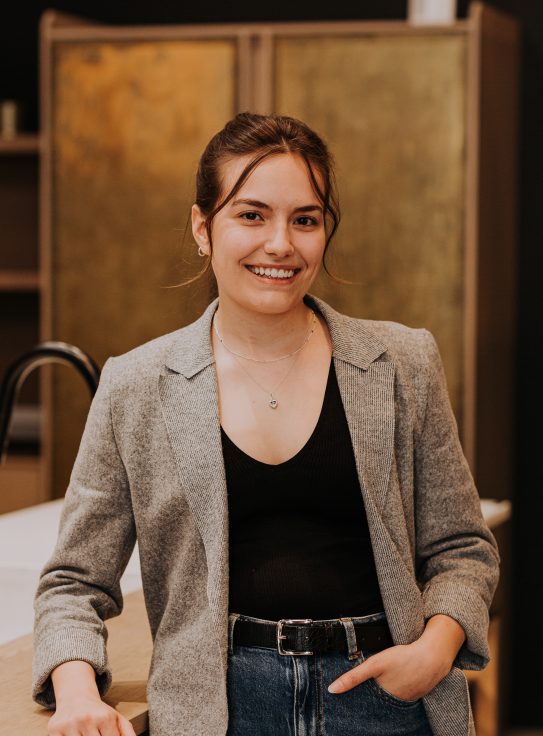 Camille Beaulieu
Kitchen designer
Biography
My academic and professionnal background
I completed my BA in interior design at the Université de Montréal in the spring of 2021. I started my professional career in interior design right here at Ateliers Jacob, during my last months of study.
My ambitions and why I became a designer
From a very young age, I have developed an interest in interior design, since it helps to develop environments where people feel at home and well. In addition, my need to create has always been omnipresent in everything I do. Interior design met these needs well.
Why I like working at Ateliers Jacob
As my first job in the field, Ateliers Jacob allows me to develop and develop my knowledge in a workplace that encourages creativity and teamwork.
About my style
Inspiration and passion
Nature is a great source of inspiration because when it is brought inside, it makes it possible to make a place alive while being timeless.
Preferred materials and application
The addition of wood always makes a space more warm and lively by its natural appearance, when applied with neutral materials. It allows to balance a space while remaining sober.
My dream project would be to
My dream project would be to build myself, to think from A to Z each of the spaces of my future home according to my needs, so that they are functional and adapted to my way of life.
My experience
Years of experience, specialty, type of achievement
My knowledge and skills have developed greatly over the past year. I am still developing through all the possibilities that projects can bring us.
Outside of work
My friends would say I'm
My friends would say that I am a creative person who is committed to everything she does and who cares about detail. In everyday life, I am always ready to try any sport, especially those team for the atmosphere they provide.
My favorite restaurant is
My favorite restaurant is any place where there are good burgers!
My favorite movie is
My favourite film of the moment is "The Biggest Little Farm", because it shows that when we focus our energies in the right places and put the necessary effort into it, we can accomplish great things.
For any questions, contact us!
Contact me!