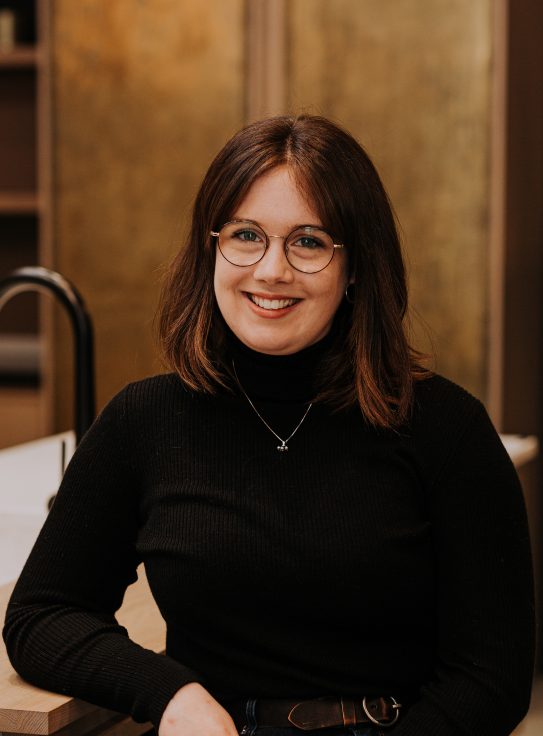 Catherine Ouimet
Kitchen designer
Biography
My academic and professionnal background
I studied Visual Merchandising at Cegep du Vieux-Montreal and Industrial Design at UdeM.
My ambitions and why i became a designer
I have always been insipred by what surrounds me and chose to become a designer to create pracitcal and beautiful, welcoming spaces.
Why I like working at Ateliers Jacob
Working at Ateliers Jacob allows me to grow each day surrounded by really fun and talented team!
About my style
Inspiration et passion
I demonstrate a keen interest in culinary arts and the outdoors and find inspiration in architecture, old houses and Scandinavian Mid-Century modern furniture.
Preferred materials and application
I love using wood and natural stones in my projects for their unique characteristics.
My dream project would be to
One of my dream projects would be to design millwork for a century-old house that is being restored to its original glory!
My experience
Years of experience, specialty, type of achievement
I have over 4 years of experience as a kitchen designer and I specialize in kitchens that perfectly represent my customers' style. I also love when I get the chance to include unique combinations of colours and materials that are in harmony with the house's style.
Outside of work
My friends would say I'm
Cheerful, a go-getter, always ready to make a dessert for any occasion and at all times ready for an evening at Mon Lapin restaurant.
My favorite restaurant is
Mon Lapin
My favorite movie is
I love Wes Anderson's visual and colorful worlds!
For any questions, contact us!
Contact me!