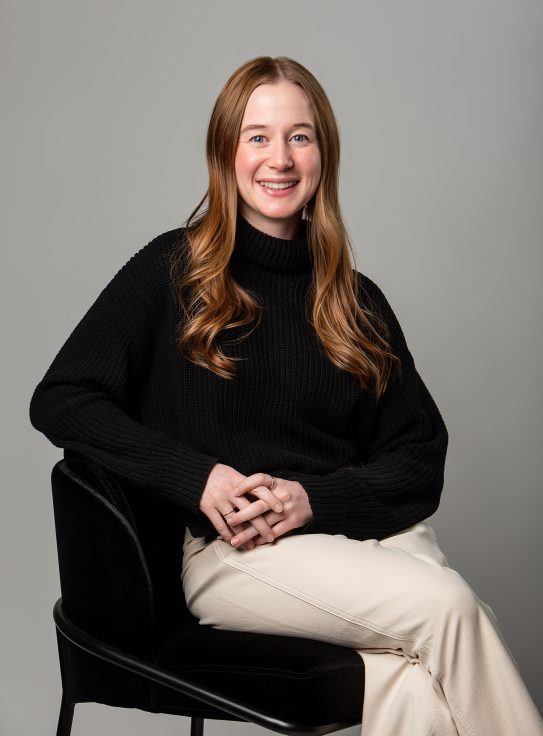 Claire O'Neill
Project Coordinator
Claire graduated from the Interior Decorating program at Bow Valley College in Calgary back in 2019. After finishing school, she spent her time gaining experience within the industry by job shadowing with local interior designers, along with being introduced to the decorating and furnishing side of the industry from working in an up-scale furniture store. In 2021 she got her start in the industry when she began working as a kitchen designer for a company that sold wholesale RTA cabinetry to clients all across Canada.
The opportunity to collaborate with others, as well as work to inspire and be inspired by the creativity this industry has to offer is one of the many aspects Claire enjoys most about interior design. When designing interiors or kitchen spaces, Claire tends to lean towards a mid-century modern design style. She appreciates that this style can be versatile while also timeless as there is range to dress this style up or down based on the lighting, furniture, and textiles selected.
Claire has been designing kitchens for almost two years and has learned a lot since beginning her journey. She is currently involved with the scheduling and coordinating side of Ateliers Jacob but also stays connected with the kitchen design world as she enjoys helping the Calgary Team with designs when she can. Designing kitchens that include touches of mixed metal hardware and plumbing, paired with flat paneled cabinetry is typically Claire's go to. As the kitchen is the heart of the home, Claire strives to ensure all clients achieve their kitchen goals and create a space where everyone feels invited and welcome.
Although being new to the industry, Claire has a real passion for kitchen design and interiors. She is enjoying getting to know the ins and outs of the industry, learning new skills, and gaining more knowledge every day. Claire feels especially happy to be on a team that creates and maintains a very encouraging and empowering atmosphere to work in. She looks forward to taking on new challenges and working with her team to be the best they can be.
For any questions, contact me!