New Manufacturing Technologies
Innovative Approach
Ateliers Jacob strives to be a company that constantly innovates and improves its design, workflow, and systems.  This dedication allows us to always be at the forefront of new developments in our field.   
New manufacturing techniques are constantly integrated in our processes so that Ateliers Jacob's kitchens are always innovative and ahead of current trends.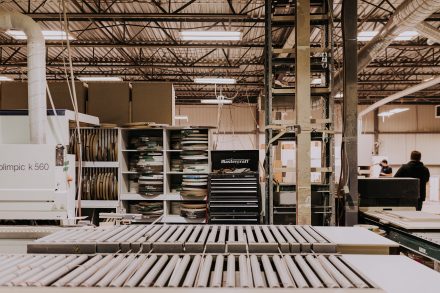 « Colle PUR »
La finition des bandes de chants est réalisée avec la « Colle PUR ». Celle-ci étant d'une qualité supérieure ayant fait ses preuves de durabilité est sans contredit la meilleure colle dans son secteur d'activité.  
Cette technique est destinée à des applications à joints invisibles permettant à ceux-ci d'être de haute qualité.
Les matériaux utilisant la « Colle PUR » sont les chants de stratifiés, en polyester, PVC, en papier résiné, en ABS ou PP, en bois massif et placage de bois. 
Advantages
Ligne de colle invisible
Résistance thermique élevée
Résistance aux dégâts d'eau, à l'humidité et à la vapeur
Résistance élevée des joints
Disadvantages
Les propriétés de l'adhésif thermofusible dépendent de la température