Aluminium
Light, adaptable and resilient
Aluminum is the material of choice for integrating shiny elements into your projects. These door frames allow for a flexible application of different types of glass.  This feature also allows you to add a material to the kitchen that does not compete with the other materials chosen for your design plans.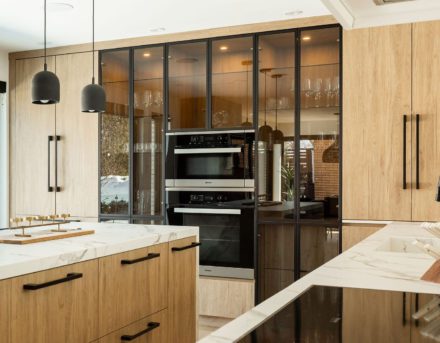 Kadrium frame doors
$$$
Kadrium models are door frames with an aluminum contour.  Frames are available in a wide variety of designs that allow glass to be integrated into both thin and thick door profiles.  One of our models also makes it possible to apply glass, mirror, or stone on the front without seeing the frame.   
Available in several finishes, aluminum can be coloured, brushed, or satin.  These finishes are treated by anodizing or by "powder coating", which ensures that the material does not flake off.   
We love this product for the flexibility it adds to our designs as well as its unique look that pairs perfectly with other materials in our collection. 
Advantages
Increased resistance to heat and humidity 
Easy to maintain 
Timeless design 
Low carbon footprint 
Sustainable 
Many choices of finishes
Disadvantages
High price 
Lack of crosspiece for glasses