Résumé
Style

Matériaux d'armoire

Designer(s)
The Grand-Héron Kitchen
Contemporary Kitchen
For this project, our vision was clear from the start: to boldly transform a log home with exposed beams and logs into a more contemporary and functional gathering place for family and friends. We were also going to expand the room outward and maximize the windows to bring in as much light as possible and welcome the relaxing view of the forest behind.
This kitchen was meant to become a gathering place, completely designed with our clients living habits in mind with no regard to convention. This was no small feat, but with our original vision in mind, all the last-minute choices and decisions during the renovation flowed. The result is a contemporary, friendly, and stylish kitchen set in a cozy environment.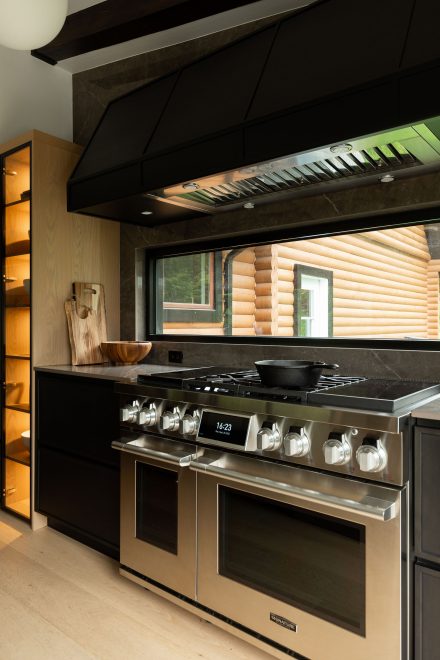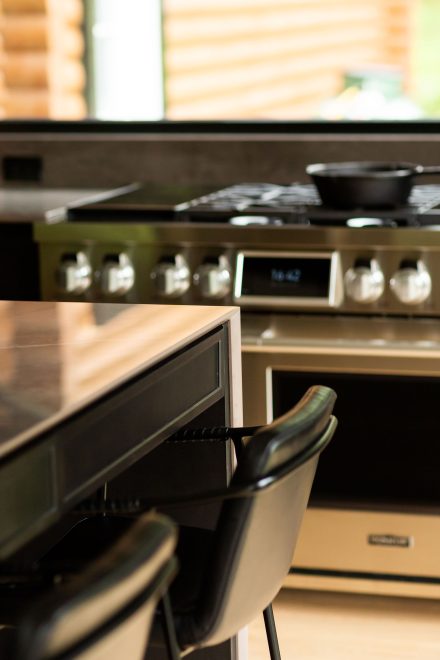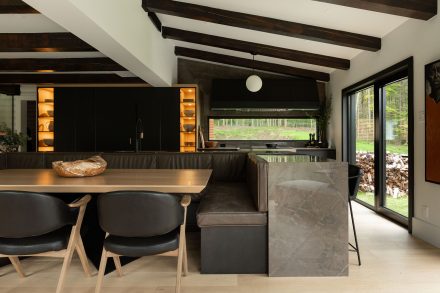 Design
Simon was sure of two things going into this project: he wanted to use maple with an opaque black stain and bleached oak floors. These choices were the basis of the project. From there, we included bleached oak in the LED-lit glass door cabinets to bring light and movement to the mass of cabinets with black maple doors. For the latter, the Athena II door was chosen for its narrow profile that gives the doors a bit of texture.  
The kitchen's highlight is the Dekton countertop and backsplash. The final choice was the hood, made of steel with a matte black finish, it complements the black aluminum glass doors and gives an ultra–chic restaurant kitchen look.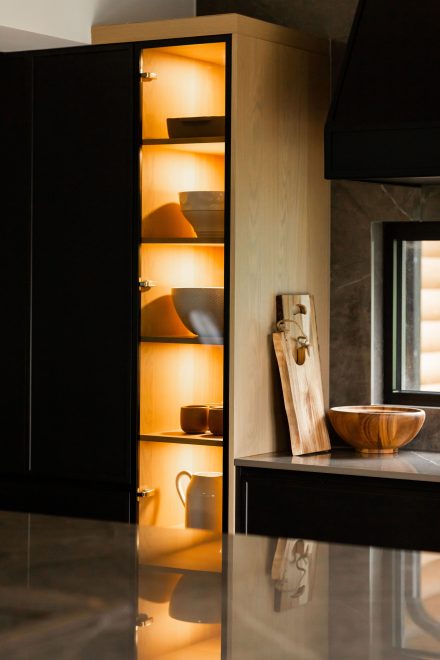 For this renovation, the room incorporates the former porch which broadens the view of nature with a full– size window. The design of this lab kitchen uses the large wall to house storage, a built-in refrigerator and cooking space.  
The large U-shaped island allows for multiple work stations with a central sink. With a built-in bench that seats eight to ten people and a lunch counter for four, the island is truly the focal point of gatherings! For the front of the island visible from the living room, our designer opted for a series of lit glass doors topped by an open wall niche for an inviting look. 
Other contemporary kitchens