The Nun's Island Lifestyle Kitchen
Contemporary Kitchen
The kitchen is the heart of the home, where families gather to cook and enjoy tasty meals. It's a place that fills the house with enticing aromas, lively conversations, and culinary memories.  Recognizing the significance of this space, the owners of this Nun's Island kitchen sought a design that would capture their family lifestyle while maintaining an elegant and minimalist aesthetic.
Working closely with our Designer, the island became the focal point of the kitchen. This choice not only created a functional space nut also added a touch of elegance. The end result is a kitchen that exudes warmth and hospitality, perfect for preparing meals with family or entertaining friends. The owners are delighted with their new kitchen, and we're honoured to have provided them with a customized living space that caters to their needs.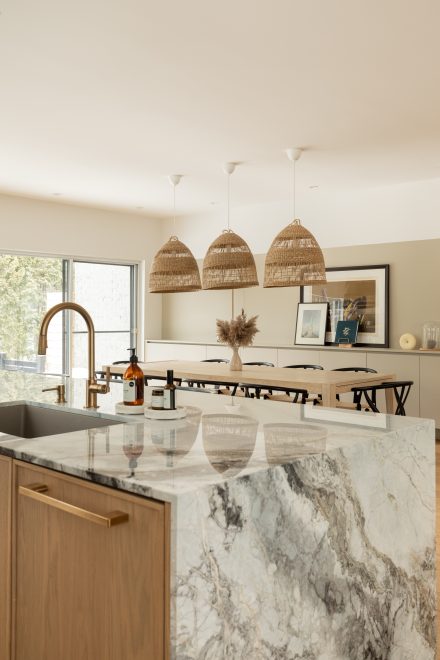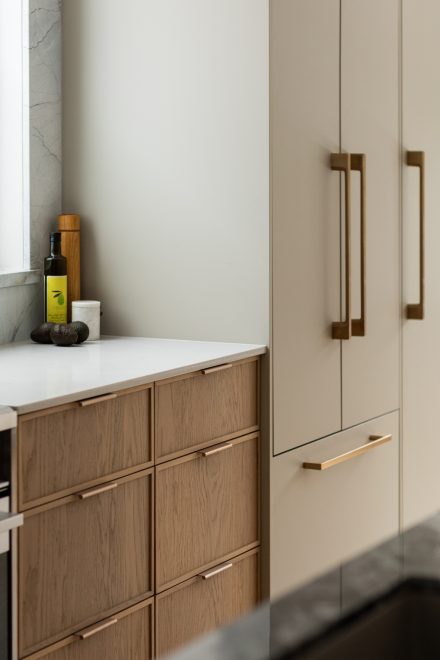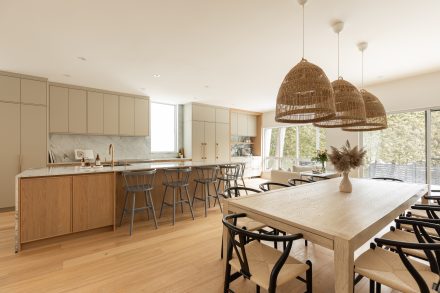 Design
To meet the needs of this family with young children, Ateliers Jacob's Evoke cabinets were chosen for their ease of maintenance. To add a touch of warmth, Ateliers Jacob's Wood cabinet collection in stained oak was added to the design. Quartz countertops and a marble island add a natural, vibrant touch to the room. The quartz backsplash was chosen to keep the room uncluttered, while the backsplash in the café area features a darker grain for a touch of character. The wood floor creates an effect of grandeur and continuity throughout the home.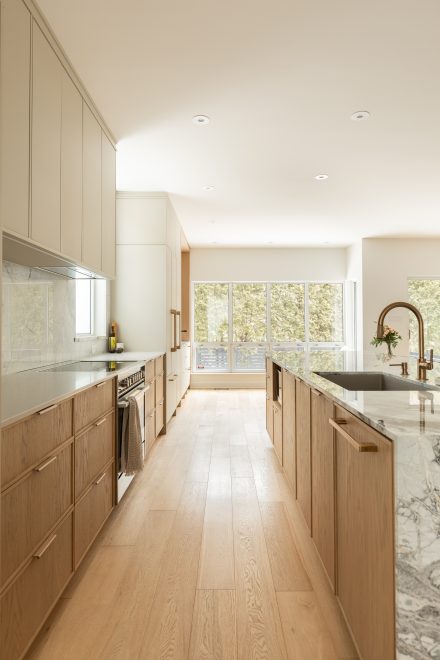 Configuration
For this kitchen, the transformation began with a complete demolition, paving the way for a spacious, open, and inviting space. To highlight the kitchen's centerpiece, the central island, a laboratory configuration was chosen as the perfect solution. This design not only expands the countertop area, providing ample space for meal preparation but also introduces additional storage for kitchen utensils and specialized tools.
Moreover, in this open-plan home, the island establishes a defined space, creating a focal point that is sure to bring together family members and guests. By optimizing every square inch, this configuration ensures that no space is wasted, resulting in a highly functional and visually appealing kitchen. 
Other contemporary kitchens