What is a kitchen without its accessories? We say to ourselves: "it's sad and not very functional". But be assured, a kitchen without gadgets doesn't exist for our kitchen designers. When we meet a client for the first time, the basic accessory that is requested most of the time is the pots drawer. This is when we begin to discuss the client's needs in detail regarding kitchen accessories and gadgets. Our clients want to make their lives easier and to enjoy their kitchen to the fullest. This is why consulting a kitchen designer is always beneficial.
Here are some examples of the products that our clients value and use on a regular basis:
Waste, Recycling and Compost
Having a garbage can dragging beside the cupboards is out. Practically all kitchens that are designed by Ateliers Jacob have a garbage can, with or without a recycling bin. There are even clients who request one or two compost bins. It is important to note that many cities now offer organic waste pick-up.
If there is not enough space to incorporate a cupboard for garbage, you can always place a garbage can under the sink. However, this option will depend upon the size of the cupboard and the positioning of the plumbing.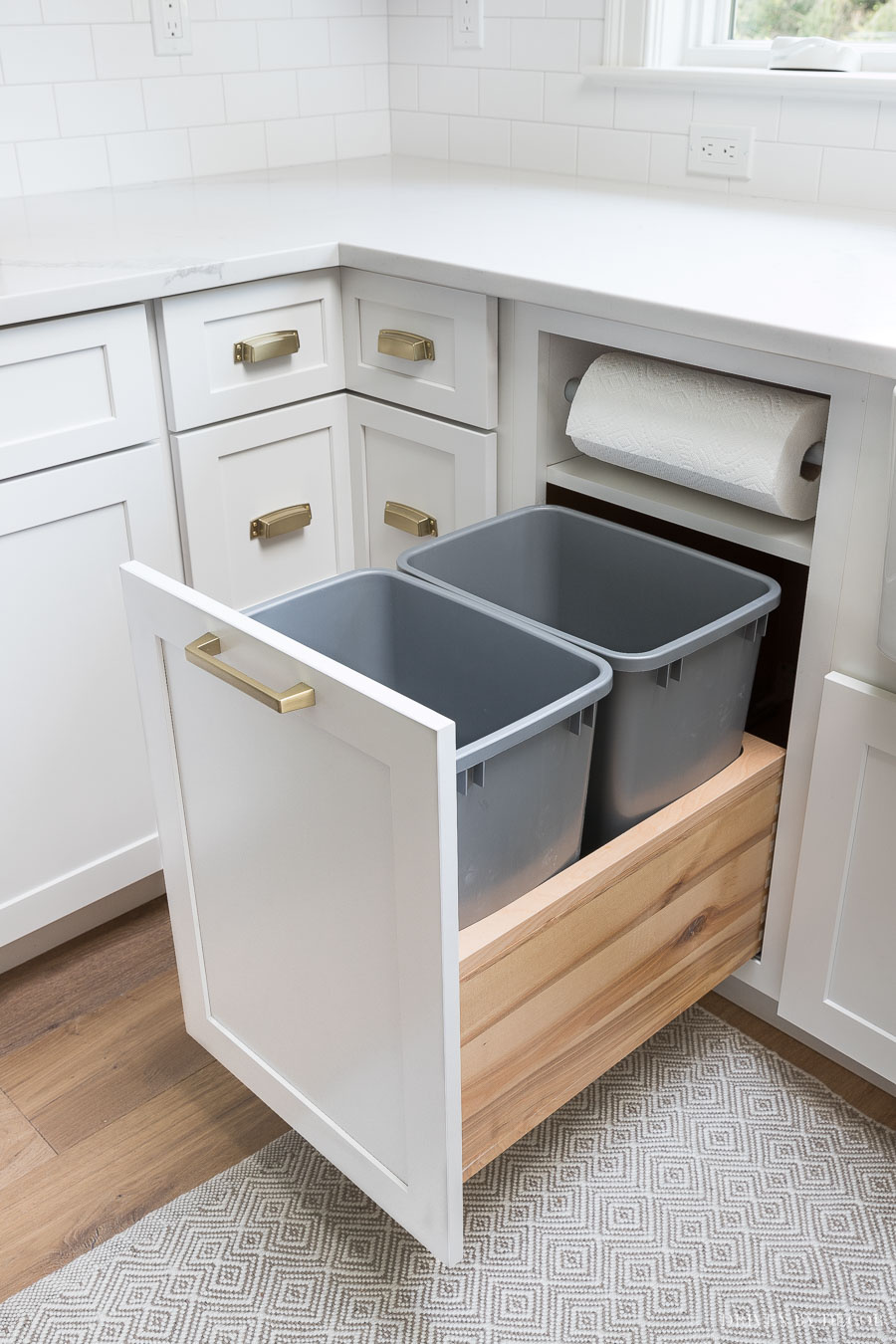 Spices in Order
A space for your oils and spices is a must. Gone are the times when the drawer is full of spice bottles that have to be taken out one at a time to see what is in them. Whether they are in one of the upper or lower cupboards, we will find the right accessory that will correspond to the clients' needs.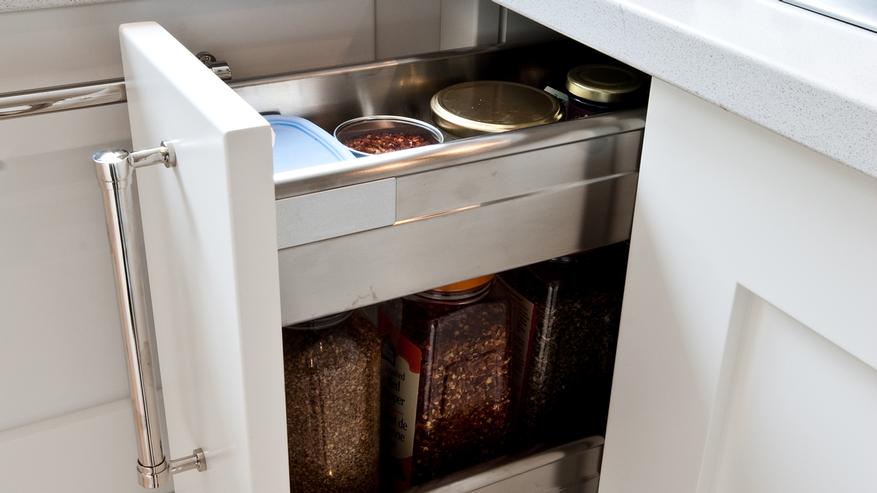 The Redesigned Corner Cupboard
The notorious corner cupboard is a clear cause for headaches. However, the Lazy Susan has evolved a great deal over time. Even though we still don't know who this "lazy" Susan was, we can thank her for having contributed to the organization of corner cupboards for many generations!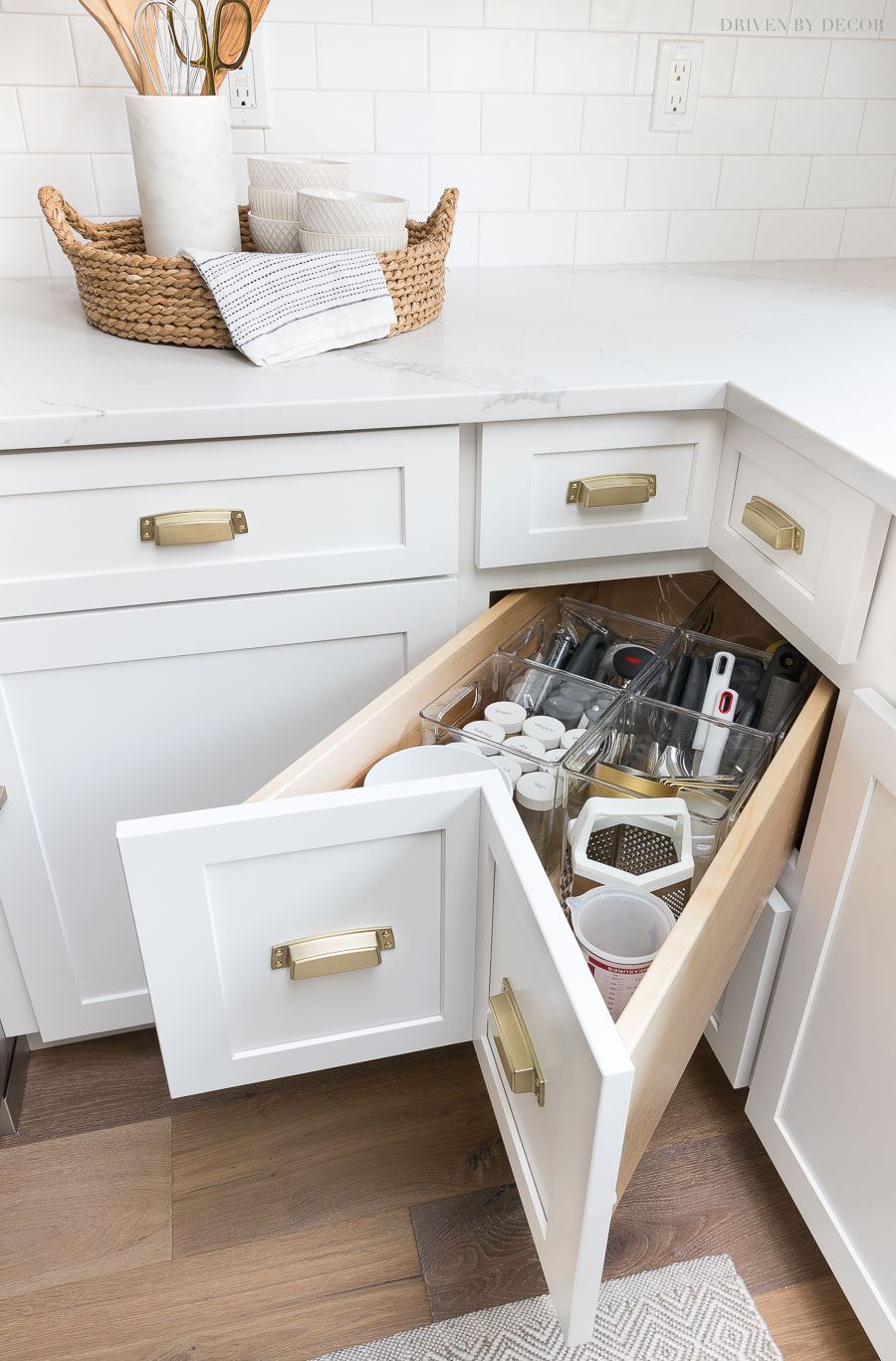 Tidy-Up Under the Sink!
An accessory that is not requested very often but is quite practical for those who love to keep things organized is the sliding basket for cleaning products. Made out of plastic or metal, having one two shelves, there is something for everyone.
An Electric Outlet Exactly Where You Need It
In conclusion, I would like to present an extraordinary gadget! You don't like seeing sockets on the wall? Here is the solution: the retractable power bar that allows you to plug in your small appliances right where you need them, on the work surface!
Do you have any of these gadgets in your kitchen? Which one of these would make your life easier?