Maïka's Kitchen
Farmhouse Kitchens
The kitchen is bathed in sunlight as it filters through the expansive windows, casting a warm and inviting glow. The air is filled with a sense of calm. Delicious aromas waft from the simmering dishes on the stovetop, blending with the cheerful laughter and chatter that enliven this comforting space. The range hood is embraced by wooden shelves, creating a welcoming atmosphere. Much like a surrounding bouquet, these shelves house pottery pieces, infusing the space with a dash of personality and charm.
At the heart of this kitchen rests a majestic island, uniting friends and family for cherished moments spent preparing food together.  Yet, the island's purpose extends beyond food preparation. It serves as a hub for relaxation and sharing, where we come together to savour each other's presence over a cup of tea or coffee. Thus, the island is much more than just a piece of kitchen furniture; it's a symbol of togetherness and sharing.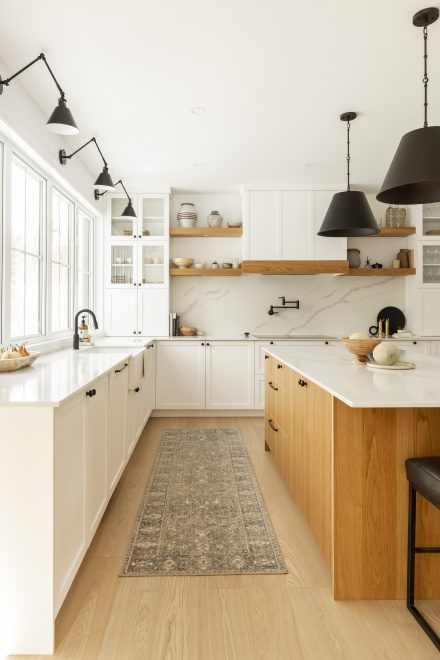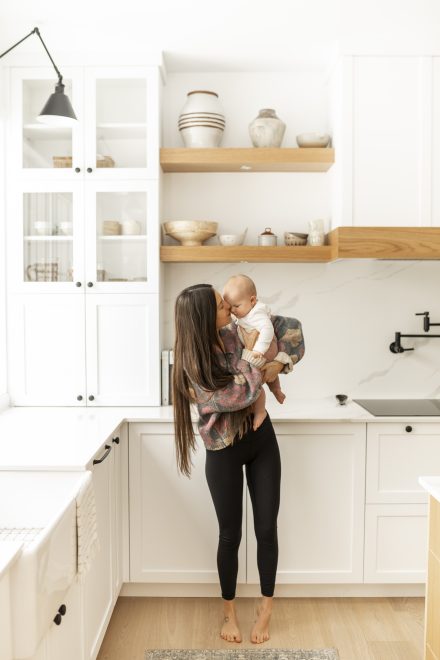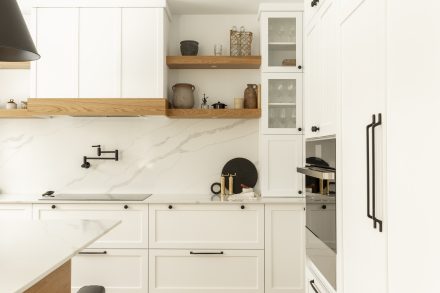 Design and Materials
The materials we've carefully selected for our products embody both resistance and durability. Polyethylene, with its extremely solid surface, stands firm against many impacts.  This makes it a popular choice for kitchens bustling with activity or busy families. Its matte finish, in contrast to lacquer, offers a more modern appeal.  Complementing this, the island crafted from bleached oak showcases a hardwood that braves impacts of all kinds, while also infusing a hint of enduring sophistication.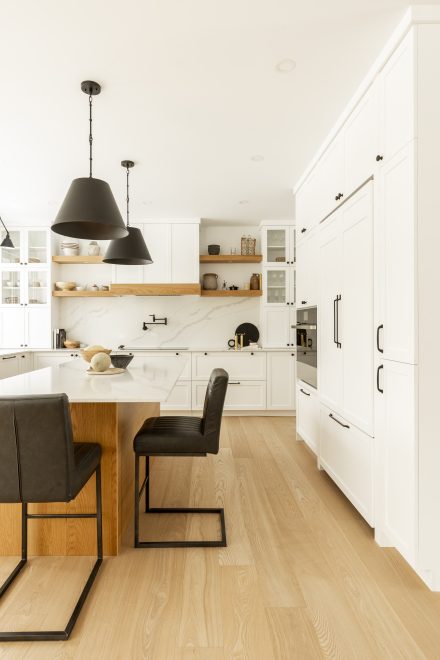 Configuration
Designing within a spacious area may seem ideal, yet it brings forth challenges tied to workstation distances. Luckily, we've discovered a brilliant solution: incorporating a sprawling central island to curtail unnecessary movement. Additionally, we've strategically clustered storage along a single wall and introduced a practical filler tap above the stove, infusing a beloved European flair. Defining an optimal room layout requires factoring in our daily routines. This underscores the importance of seeking guidance from a seasoned kitchen designer who can expertly guide you through the process.
The continuous backsplash with its beautiful grain gives a chic and homogeneous look to the room, in addition to being easy to clean.