Résumé
Style

Matériaux d'armoire

Designer(s)
The Maples Kitchen
Farmhouse Kitchens
Nestled within sprawling acres of wooded land, this kitchen serves as the centerpiece of a property graced with sugar maples, a maple grove, and a charming stable—a true hobby farm setting. The homeowners, enamored by this estate, embarked on a home renovation journey, beginning with the heart of their abode: the kitchen. The previous kitchen, confined by walls and lacking functionality, prompted the need for change. Yearning for an expansive, open space with a touch of Farmhouse style, the couple envisioned a contemporary interpretation rather than an extreme transformation.
Undoubtedly stealing the spotlight, the kitchen island commands attention. Spanning an impressive eleven feet in width and almost four feet in depth, it stands as a true centerpiece. Its inviting green hue paired with warm wood accents holds a special charm. Adding to its allure, the wooden niche gracefully integrated into the bench area offers a delightful canvas for showcasing books and other cherished decorative pieces.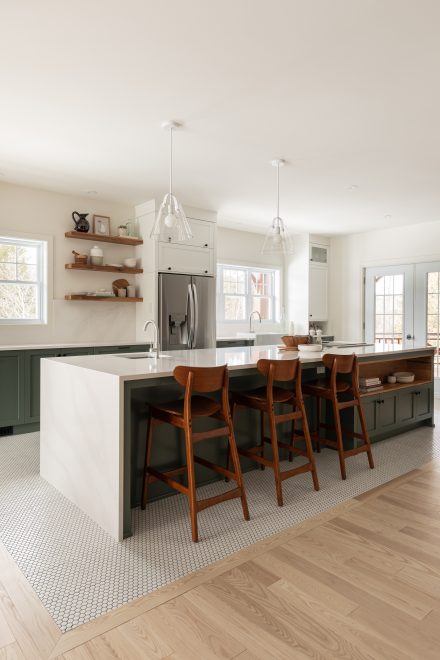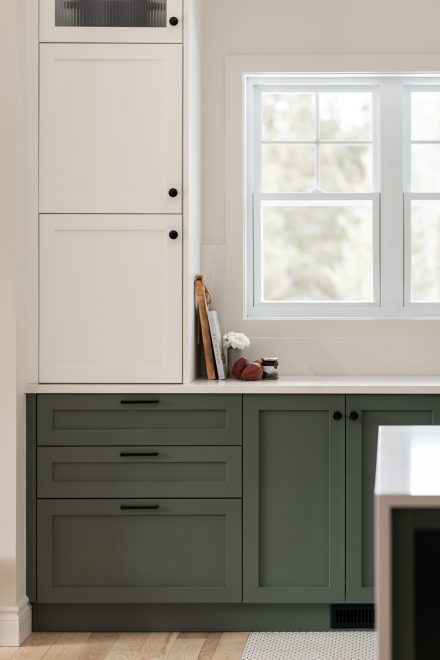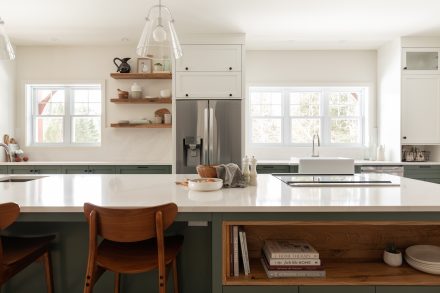 Design and Materials
Lacquer emerges as the perfect choice for achieving the desired look. With its noble, low-gloss finish and boasting an array of colours, it was the perfect finish for this project.
For our client, Calacatta gold quartz was a favorite. Its non-porous nature and premium natural and recycled materials make it an exceptional selection.
Continuing the chosen material from the countertop to the backsplash was a deliberate decision, enhancing the sense of continuity and amplifying the presence of this exquisite material. This strategic move also permits the incorporation of other elements without overwhelming the visual appeal of the kitchen.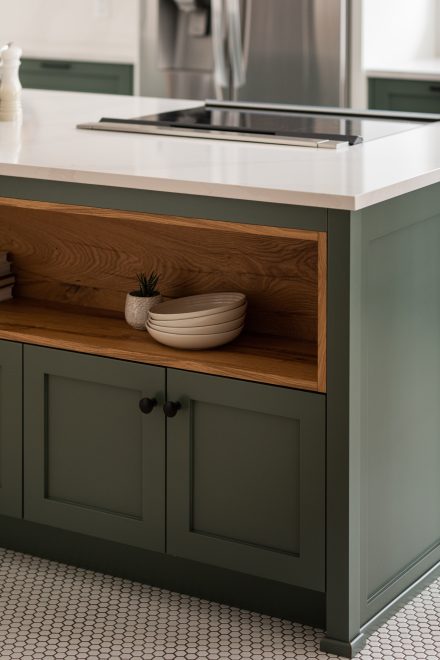 Configuration
The configuration of this kitchen required extensive engineering work. Among the changes, load-bearing walls enclosing the original kitchen were reimagined to forge a U-shape layout.
The effort was well worth it, as our client now enjoys a magnificent kitchen that could be described as a culinary laboratory, where all kitchen traffic flows between two parallel counters.
Open to the rest of the house and right next to the dining room and living room, this kitchen is equally suitable for cherished morning coffees with loved ones and vibrant gatherings of extended family and friends!