The Mont Blanc Kitchen
Farmhouse Kitchens
Nestled in the vast forest of the Laurentians, north of Montreal, lies a beautiful home. Ateliers Jacob had the privilege of crafting the kitchen that would become the heart of this new abode. Adorned with white cabinetry and expansive windows, each morning brings a symphony of sunbeams dancing through the room, breathing life into every corner.
As delicate snowflakes gracefully descend from the sky, the air inside fills with laughter and joy. It is here, amidst the warmth of family, that stories unfold over cups of steaming coffee and slices of homemade pie, in the late hours of the evening.
During summer days, a gentle breeze whispers through the dining room windows, infusing the kitchen with a refreshing ambiance. As autumn sets in, conversations ignite, weaving dreams of new projects and endless possibilities. Time may pass, but this cherished kitchen will forever remain a steadfast anchor in the hearts of this loving family, forever connecting them through the precious memories they have created within its walls.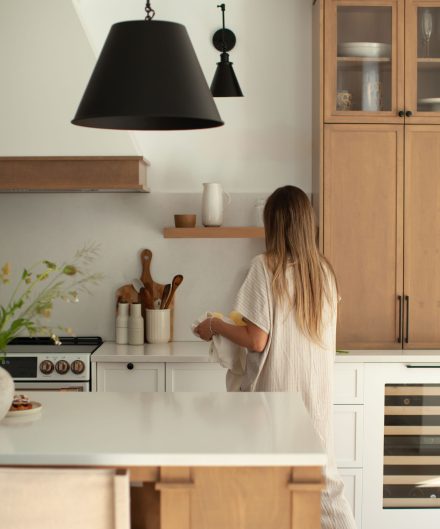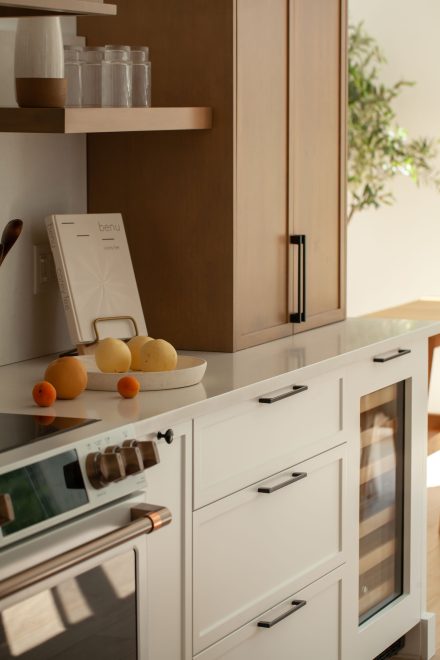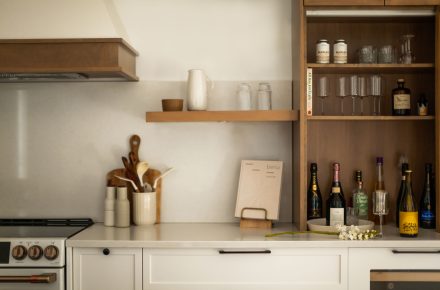 Design and Materials
Seeking a kitchen that transcends time, our customers embarked on a journey blending the elements of farmhouse, classic, and contemporary styles. The outcome is a seamless fusion of aesthetics that will endure for years to come. To honor the farmhouse charm, our designer selected shaker-style cabinet doors adorned with delicate moldings, striking a perfect balance between simplicity and refinement.
Adorned with delightful accessories, open shelves proudly display recipe books and whimsical vases, infusing the space with personality. The hood and island ogee moldings, chosen in a classic style, add a touch of sophistication.
Our kitchen designer collaborated with our customers to select the exquisite Siberian Lynx quartz countertops and backsplash, seamlessly harmonizing the entire living space.
Ateliers Jacob's Kitchen Cabinets
A soft and inviting colour palette was meticulously curated, setting the stage for a warm and welcoming atmosphere. Our Wood Collection's custom maple cabinets provide an elegant contrast against the Lacquer Collection's pristine white, while sleek black stainless-steel handles introduce a contemporary touch to this timeless kitchen.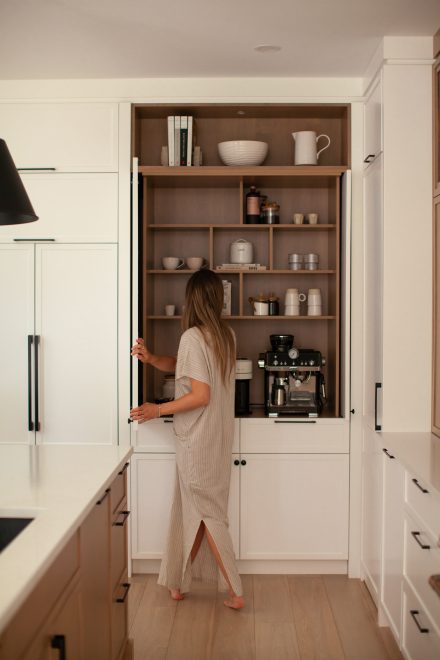 Barista Corner
A barista corner was a must-have for this family, catering to the needs of their young children. The expansive cabinet doors from our Wood Collection effortlessly conceal this space, ensuring a sleek and refined appearance for the kitchen.
Bar Area
Incorporating a bar area within the kitchen was another desire of our customers. Our innovative kitchen designer seamlessly integrated a bar area into the countertop, cleverly hiding wine and martini glasses behind the grand maple cabinet doors. This thoughtful design creates an ambiance of sophistication, while the built-in pantry adds the final touch to this elegant atmosphere. This space enables the couple to savor quality moments together within the comfort of their home.
Wooden floor
Wood brings a natural allure and instills a sense of coherence and harmony in every space it inhabits. For example, to create continuity between the rooms surrounding the open kitchen, the wooden floor extends graciously across the entire floor. There's nothing like this warm, timeless touch to enhance a home, creating a captivating environment that stands the test of time.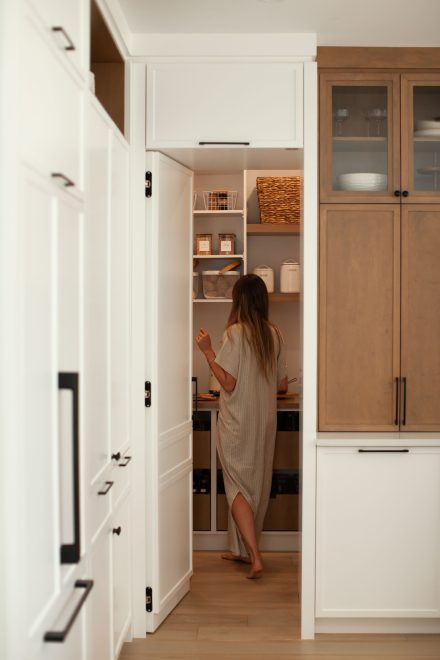 L-shaped Kitchen
The L-shaped configuration of this kitchen lends itself perfectly to the concept of the "activity triangle," where the sink, fridge, and stove form a convenient and efficient workspace. However, we go beyond this fundamental principle. Our kitchen designer engages in detailed discussions with our customers, understanding their cooking habits and unique requirements. By doing so, we craft a personalized kitchen that truly aligns with their expectations, enhancing their daily lives. This level of thoughtful design has a lasting impact, particularly for families with young children.
Hiden Walk-In Pantry
To optimize kitchen space, our customers sought a hidden walk-in pantry. Behind custom-made doors, this pantry provides ample storage for small appliances, keeping the main countertops clutter-free. It allows for the inclusion of essential tools such as blenders and food processors without compromising valuable workspace. We highly recommend a concealed walk-in pantry for those seeking to maximize functionality and practicality in their kitchen.