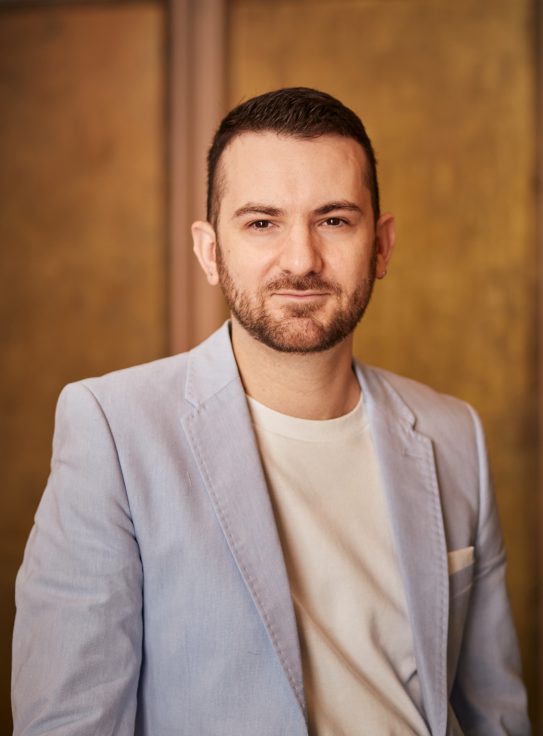 Émilien Gabet
Designer-cuisiniste
Biography
My academic and professionnal background
I obtained a DEP in interior design and visual presentation in Montreal. My academic background allowed me to make my passion a career.
My ambitions and why I became a designer
I have always had a love for design and interior design. Being able to combine my passion with my work just makes me happy!
Why I like working at Ateliers Jacob
I am privileged to have joined Ateliers Jacob, because I work with a team of passionate people who are always ready to accompany me in the projects I undertake and who help me to excel.
About my style
Inspiration and passion
I am passionate about travel, especially Japan, which I have visited several times and which has allowed me to discover a new way of developing a living space. I also love chocolate desserts and I'm always ready to shop for a new pair of shoes!
Preferred materials and application
I love using lacquer for the multitude of colors it offers and mixing it with materials like wood or aluminum. The combination of these materials makes it possible to create timeless and simply beautiful creations.
My dream project would be to
My dream project would be to complete the development of a residence at Habitat 67. The architecture and concept of this building are so unique that I would imagine an equally incredible interior design mixing textures and precious materials.
My experience
Years of experience, specialty, type of achievement
After working for 10 years in the field of finance I decided to reorient myself to live from my passion, interior design. I like to create contemporary kitchens with sober lines for their timeless and elegant sides.
Outside of work
My friends would say I'm
My friends would say I'm always up for the adventure! New York, Palm Springs, Vancouver… I'm getting on!
My favorite restaurant is
My favorite restaurant. is La Pyramide in Vienna where I celebrated my 30th birthday with my family. This is a gourmet restaurant where each of the dishes are as beautiful as good! The chocolate hazelnut and kirsch dessert is a delight.
My favorite movie is
My favorite movie is The Fifth Element. A science fiction movie that I was lucky enough to see in the movies when I was young. The futuristic universe and the costumes of Jean Paul Gaultier always fascinate me every time I look at him.
For any questions, contact us!
Contact me!