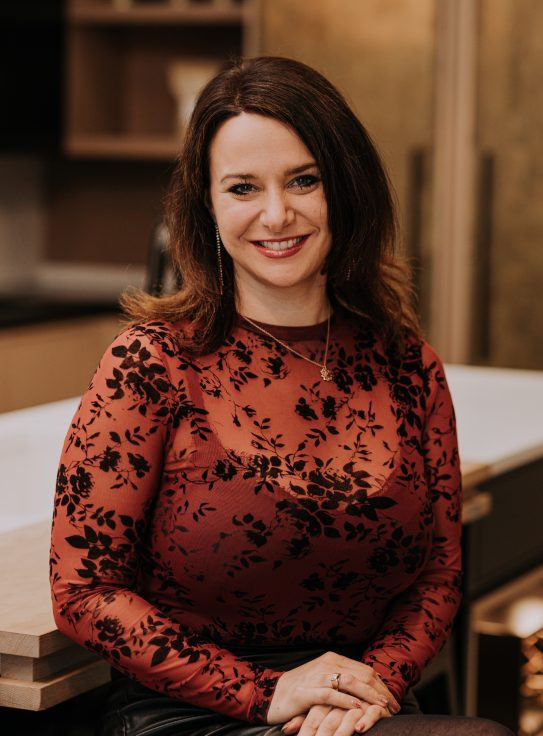 Évelyne Contant
Kitchen Designer
Biography
My academic and professionnal background
At Cegep, I went to the arts and letter, profile: Theatre. During this period, I found myself a special interest. During my studies in dramatic arts, I was particularly interested in stage design. This then led me to interior design more specifically.  I studied at the Académie du Design International in Montreal.
My ambitions and why I became a designer
My father always worked in kitchen and bathroom design and a few years later I walked in his footsteps. The interior designer is a job that suits me perfectly since I am passionate about the ergonomics and beauty of all the possibilities that are offered to us in terms of designing a house.
Why I like working at Ateliers Jacob
Being part of the Ateliers Jacob team is like being part of a large family with a common vision of getting it right and improving the daily lives of their clients. I like to have the opportunity through this company to participate in the design of large and high-end projects.
About my style
Inspiration and passion
I'm a big fan of life in general. Whether it's gastronomy in the restaurant or while cooking, music in concert or at home, cinema of all kinds and of course literature. In fact, I made it my second job because I am an author of fantastic romance books.
Preferred materials and application
For the use of materials, I love the real, as in life. So, stones, wood, concrete, steel and colors that remind nature. I like timeless atmospheres that don't go out of style.
My dream project would be to
My dream project would be to build a house for my family from start to finish on a large land surrounded by forests. A warm home in an American ranch atmosphere with these wooden beams and its rough stone fireplaces.
My experience
Years of experience, specialty, type of achievement
I have been creating high-end kitchens and cabinetry since now 2011. My specialty lies in the creation of prestigious houses. I particularly appreciate having the opportunity to create complete houses at the level of cabinetry through the kitchen, the laundry room, the entrance, the walk-in closet, the home theater and others. I'm a very versatile person. So, I adapt to all styles, but I still prefer to direct customers to timeless materials and colors.
Outside of work
My friends would say I'm
My friends say that I am passionate and that I am burning the candle by the "four" ends if of course this was possible. When I love, I love and fight for what I believe in.
My favorite restaurant is
My favorite restaurant is anywhere there is a nice decoration, a good atmosphere and a good beef tartare, all accompanied by a good cup of Rioja red wine!
My favorite movie is
As far as films are concerned, my interests are quite varied, because I am a very great film buff. I have a penchant for science fiction and movies with a well-crafted story. In my hobbies, I love cooking and receiving friends around a good meal.
A little bit more about my interests
I also like unusual activities like paintball, laser tag, escape games. Me and my spouse are also very big fans of football and we are always up for a game at a stadium in the United States. In short, I like to bite life and everything it has to offer us!
For any questions, contact us!
Contact me!